Campaigners hoping to transform the empty Barley Mow Pub in Bramley into a community-run pub and community hub have secured a significant victory.
Leeds City Council has designated the pub as an asset of community value, which means the landowner is prevented from disposing of the property for a period of six months.
The decision gives campaigners more time in their bid to mount a community takeover of the pub, which closed in November 2018.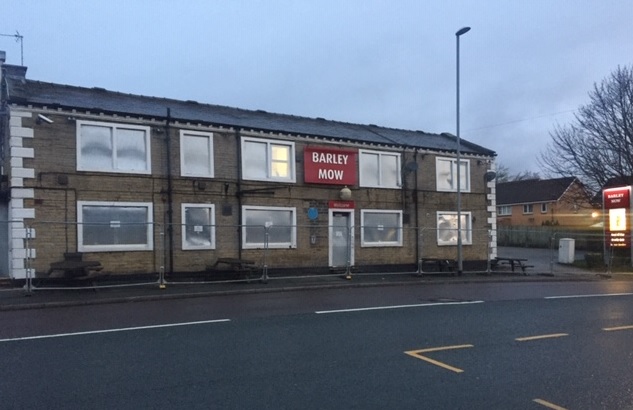 Landowner Milion Portfolio Property Limited – who says a number of parties are interested in taking on the pub – opposed the registering of the building as an asset of community value.
They disputed that the pub was used for community use in the recent past and stated there is no evidence to suggest a similar use will exist in the next five years. They also feel that the pub's historical significance was not relevant to the asset of community value nomination.
But council officers disagreed, arguing that the property had a use in the recent past that furthered the social wellbeing or interests of the local community and that it is realistic to think that it can be brought back into such a use within the next five years. They added:
"Although the prospect of bringing the property into community ownership for an eligible use would require a number of significant challenges to be met, there is clearly considerable experience in community enterprise in Bramley and the organisations running other community assets have raised similar sums in the recent past.

"On balance officers are of the view that raising the funding required is realistic and that there is plenty of experience in the local community to bring the pub back into use."
The Barley Mow Supporters group, who are hoping to take the Barley Mow Pub into community ownership following its closure last year, hope to evolve it into a pub of the future that offers much more than just a place to drink. The nomination of the building as an asset of community value came from Bramley Rugby League Community Club.
The Localism Act 2011 details the legislation for Assets of Community Value (known as the Community Right to Bid). These provisions give community interest groups a right to identify a property or land that is believed to further their social interests or social wellbeing and gives them a fair chance to make a bid to purchase the property or land on the open market if the owner decides to sell.
Best and final offers for the pub were originally sought by Thursday 30 May. It's understood someone wanting to set up a Chinese restaurant is also interested in the building, along with other parties.
The council report can be read in full here.
Last month, a community planning day saw supporters descend on Bramley Community Centre to help compile a business plan to help take the Barley Mow Pub into community ownership.

Read more of WLD's coverage of the planned community takeover here.
______________
Local news is in crisis. Can you help?
These are challenging times for local news providers – and producing your daily dose of West Leeds Dispatch comes at a cost!
We're a small, community-led news organisation which needs your support to keep delivering quality journalism. We want to continue to maintain our openness and protect our precious independence – and above all to connect people with what's happening in their part of West Leeds. Every reader contribution, big or small, helps us to do that.
For as little as £4 a month (£1 a week) you can support us – and it only takes a minute.
Or set up a standing order with your bank: Contact us on Paywestleedsdispatch@gmail.com if you'd like to do this.
Your support will make a difference. Thank you.