A new book celebrating 40 years of conservation volunteering at Hollybush will be launched later this month.
The Friends of Hollybush group will be launching Hollybush 1979-2019 An Illustrated Oral History on Monday 24th February at Leeds Central Library (11.30am).
Stories were collected over 12 months with the help of a £10,000 grant from the National Lottery Heritage Fund.
The launch features Amy-Jane Beer, author and Guardian Country Diarist, in conversation with Giles Cooper, field officer from 1979-1982, Jessica Duffy, project officer 1986 – 2016, and Liz Boyd and Lisa Bedford, who are both current volunteers and members of the history group,
The Hollybush History Project features contributions from over 50 past staff and volunteers.
Pauline Pickett, Chair of the Friends, said:
"It has been brilliant to reconnect with so many people through the project and in person at the three celebration events held over the last year.

"The project has enabled us to bring these stories together as a permanent record of forty amazing years.

"Thank you to the Heritage Fund for the grant to pay: for the website, for Charlie Wells, community artist and musician, to work with the volunteers of the history group to collect the materials and then design the book, for printing the book and to everyone who contributed."
The book is illustrated with photographs contributed with the stories and from the Hollybush archive. These are interspersed with images from posters, leaflets and newsletters. 25 colourful silk paintings were done at a workshop with Hollybush Primary School.
At 130 A4 pages the book is twice the length and twice the size originally envisaged. The stories can be seen on the Friends of Hollybush website, where copies of the book can be ordered.
It is also available directly from the centre on Broad Lane in Kirkstall, while stocks last.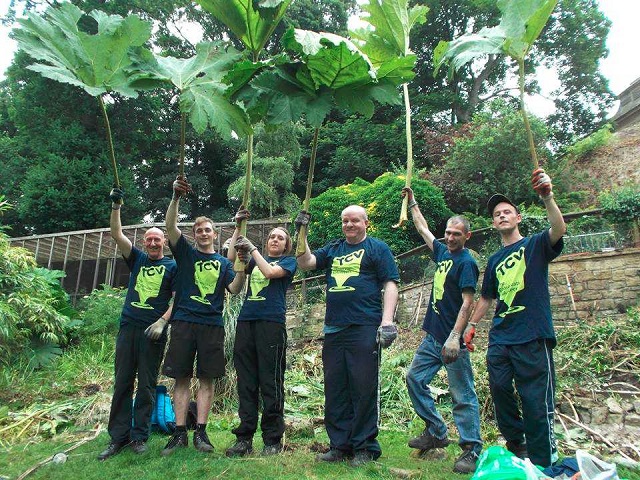 Who are the Friends of Hollybush?
The Friends of Hollybush are an umbrella group for past and current participants, volunteers and staff to undertake small projects that add real value to the wider year-round TCV programmes.
Working with a professional heritage worker the volunteer group will gather the stories to bring to life the rich and varied stories that lie behind the vibrant Hollybush Centre of today.