A historic photo thought to be one of the world's oldest selfies has been recreated more than 130 years after it was first captured by a pioneering Leeds inventor.
The eye-catching original was taken by trailblazing Leeds-born astronomer and engineer Washington Teasdale in the grounds of Kirkstall Abbey back in 1883 and has been reimagined to mark today's Museum Selfie Day.
Teasdale's image is believed to be one of the world's oldest examples of someone both taking and appearing in a photograph, a feat Teasdale could only accomplish because of the exceptionally long exposure time on cameras of his era.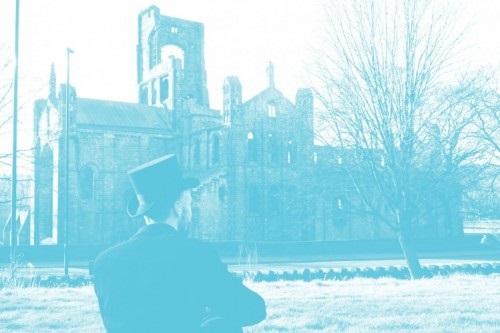 Museum Selfie Day is a global social media event which sees people taking selfies in museums across the world, raising awareness of the collections and encouraging the public to visit, take a 'selfie' and post on social media with the hashtag #museumselfie.
Chris Sharp, Leeds Museums and Galleries' assistant community curator donned a traditional top hat to follow in Teasdale's footsteps in the grounds of the spectacular Cistercian abbey this week and help come up with a unique Leeds photo for the day. He said:
"Washington Teasdale was a remarkable person with a truly incredible mind and it was amazing to think that I was sitting in pretty much the same place, taking the same photo he did all those years ago.

"Museum Selfie Day is a really fun and imaginative way of showcasing Leeds alongside collections and venues from across the world. It's also a real tribute to Teasdale and his extraordinary accomplishments that we're still being inspired by his work more than 130 years later."
A copy of Teasdale's original photo is currently on display at Leeds Industrial Museum in Armley as part of Leeds to Innovation, an exhibition celebrating the city's best and brightest minds.
After working in India as a civil engineer on the railways in the 1850s, Teasdale came home to Leeds and chaired the Leeds Astronomical Society where he was instrumental in recruiting more female members. The society is still active today.
A member of the Naturalist Society he invented his own field microscope to study insects and pushed the boundaries of photography to capture detailed images of the moon through his telescope.
A respected expert on everything scientific, he lived in a house on Hyde Park Road which was filled with a scientific apparatus and works of art.
Leeds to Innovation is open now at Leeds Industrial Museum and features more incredible stories of local inventors and their astounding creations.