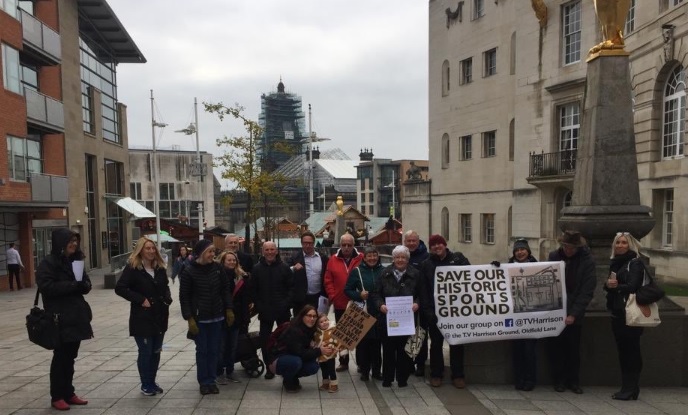 Campaigners fighting to save a historic Wortley football pitch from having housing built on it have met council officials to try make them change their mind.
Members of the TV Harrison Action Group are hoping to save the Oldfield Lane pitch – once a breeding ground for a generation of footballers who went on to make the grade with Leeds United and other clubs.
The council want to buy three quarters of the site from the Leeds Schools Sports Association (LSSA) and build around 50 council houses built on it.
Campaigners protested outside Leeds Civic Hall this week before meeting with council officials to discuss the future of the land.
One of the campaigners Aaron Lambert said:
"[The meeting] went pretty much as expected. We gave as good an account of our fight as we possibly could.

"We have left them with lots of question marks regarding treatment of the TV Harrison ground over the past 20 years by trustees and the council. We also left them with questions to answer regarding LSSA's ability to sell without replacing the sports field like for like, as is the required remit."
Fellow campaigner Clare O'Keefe added:
"They are looking into any legal impediments that might block their plans. For instance, that they already own the playing field if LSSA cannot make use of it, and that it must be retained as a playing field. We got solid support from a number of other people."
The former TV Harrison Sports ground in Wortley is named after Thomas Vernon Harrison, a World War One veteran and headteacher who was the main instigator of buying the land as a children's sports pitch in the 1930s.
The land, next to Wortley Asda, has already been allocated for housing in Leeds City Council's site allocation plan, a blueprint for development across the city.
The group is also organising a public meeting on Wednesday 27 November at 7.30pm in St John's Church, Lower Wortley Road, to discuss the next moves in their campaign.
Check out West Leeds Dispatch's coverage of the issue here.