Mik Artistik is an Armley legend. Here he talks to FAYE DAWSON about Iggy Pop, John from Morley and paper bags from Ireland …
I ARRIVE at Mik's house and am immediately taken to the cellar to help him lift a paint-splashed table into the back yard for someone to collect.
We venture around the potter's wheels, broken plates ('Cath's making mosaics') – there's a door with the words 'The Aquarium' painted on.
We wrangle with the table, which is under another table, and emerge into the back streets of Armley all dusty and cobwebby.
Mik Artistik is a Leeds legend.
About six-foot tall, lean, and stylish with a handsome face full of features, you'd be forgiven for forgetting that Mik is nearly 65.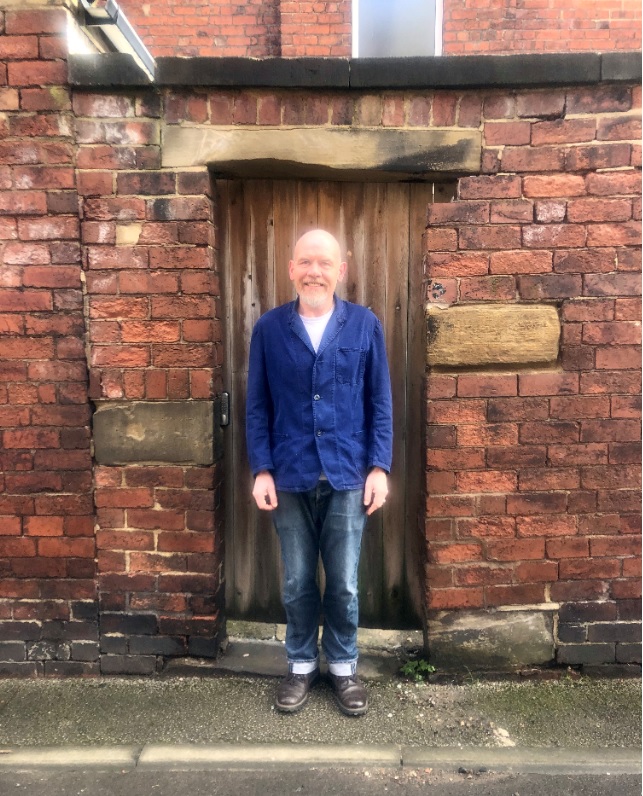 Renowned for (literally) running around the city armed with brown paper bags and biros, he became known in the 80s for 'bagging' people, creating his own unique artform that is still loved by many.
After he has played me Queens of the Stone Age at full belt performing air guitar over it, I manage to ask him a question. He takes me to Christmas 1983:
"I was visiting my parents in Longford, Ireland, and in their local bakery was a pile of paper bags; I just thought they were beautiful and wouldn't it be great to draw on them; the surface – it'd be like ink on wood. I could draw my portraits on them, and people would have their own bag! Not a supermarket bag – their own bag!'
The shop gave him a pile and he went to the local pub where he drew one of the punters. His model was pleased and bought the bagged portrait.
"When I sold that first one, I came out of the pub like 'I'm PICCASO!"
He punches the air in excitement his big smile lighting up the room.
"I bagged the Mayor and ended up in the Longford Observer! I thought, 'I'm going to bag the world!'"
Of course, there's a story of twists and turns in the lead up to that first bag; the story of young man lost – no self-confidence, no self-belief and a host of insecurities that are with him still.
Throughout our chat Mik goes from wild to considered in a matter of seconds.
Performing with arms out wide and excited eyes, to sitting pondering intently.
"I'm petrified in lots of situations; I'm just a little boy trying to please but the other bit of me just wants to wreak havoc."
Being with him is like being in one of his ad-libbed on-stage performances; characters appear from nowhere.
"…there was Eddie who had a pigeon in his jacket. I was drawing him in a pub, he's got a leather jacket on, great face, quiff… and then he brings this pigeon out of his jacket and gives it a little stroke – sticks it back in again… Do you want a fried egg sandwich?"
I do.
"…there's John from Morley – he's never left Morley; he's never been to Leeds.
"He says he's got everything he needs in Morley – supermarkets, pubs, parks. He sits there with his roll-up…"
His friends include people named Bankside Pete and Effin' Steff.
Famous people pop up – it's not name-dropping, though his awe is apparent, rather they are all characters that help tell Mik's stories.
'…I saw Paul Weller in a queue for the cinema and asked if I could draw him on a paper bag, he said 'I can't I'm off to the pictures but come to my studio tomorrow…'
He went. He drew him. Paul bought it.
'He made me a coffee. Very gentlemanly.'
We eat our egg butties.
There are meetings with John Shuttleworth, Johnny Vegas, Shane McGowan ('he asked me to draw the band but they moved around too much') Mick Jones, Keith Allen, Martin Parr; he recalls Bob Mortimer rolling on the floor laughing at him at a gig in Edinburgh where Mik came runner-up to Peter Kay in a comedy competition.
He'd sung 'Johnny is a Bird Bath' and played the bum bag.
Played the bum bag?
"Yeah – I just played the zip into the microphone. Jive Talking by the Bee Gees."
The woman turns up to collect the table; a beautiful, bold and loud Portuguese woman.
There follows a shouted conversation through the locked front door instructing her to come to the back street where there is more shouting, kissing, laughing, pretend crying and dramatic wailing, then off she goes with the paint-splashed table.
We settle back. I have a coffee in a Kanye West mug – I'd hoped for Mik Artistik's Ego Trip branded cup.
Mik Artistik's Ego Trip formed in the early 2000s.
"I started going to Open Mic nights and borrowing musicians; I'd go to The Wardrobe and upset the Jazz lot – singing about bananas over the top of their stuff."
And so the band was born. There have been a few incarnations but guitarist Jonny Flockton is a mainstay.
"He's great is Jonny."
They've played Glastonbury 10 'or is it 11?' times, they gig up and down the country, and have a huge, almost cult following.
"We did a gig recently and when I started 'Cloak of Invisibility' everyone pulled a cloak out and wore it!"
There was another where they arrived at the venue to find it covered in masks of Mik's face – 'on the walls, tables, speakers, everywhere – it was surreal'.
I think Mik has a story for every gig he's ever played and every thought he has ever felt (there is so much that didn't make this final piece), but I have a brief and I need to find out more about it.
A few months ago, the mighty Iggy Pop chose the song 'Sweet Leaf of the North' as his number one song of the last decade on American radio station NPR.
I ask him how it came about.
Mik adopts an American drawl "'I'd just like to choose a song by Mik Artistik which is Sweet Leaf of the North; it tells the story of a struggling band from a small town in the North of England going to London …'
"He played us on his Radio 6 programme – not just one song either, we were a feature! It said in the trailer 'Iggy Pop plays Mik Artistik's Ego Trip'!"
The Iggy voice returns, 'this song is called Plastic Fox; it's a song about a plastic fox – this lady is making scrambled eggs; it was a present from her son'…
"My mum said" – this time he's Irish – "'who is this Ziggy Pop?' I e-mailed Iggy to thank him and I told him what Mum had said.
"He responded and signed off 'Ziggy'! He lives in Miami. He's coming to London in May. We're hoping to meet up.
"I saw him at Leeds Uni in 1978 – he was wearing a dressing gown, he was amazing."
Mik's excitement is all over his lovely face.
I can't bear to interrupt so I never really get to the bottom of how Iggy Pop discovered Armley's Mik Artistik and it doesn't really matter.
It's a tiny drop in the huge life of a beautiful human being.
We start to wrap up. We've been talking for three hours. Far longer than I intended I tell him.
"Just write 'Iggy Pop Loves Mik'"
Iggy Pop Loves Mik.
And so do I.
To find out more about Mik Artistik's Ego Trip, their upcoming gigs, buy merchandise and albums, or to book them for your event visit Mik's website – where you can also hear the Iggy Pop interview!