By Katherine Turner. Photos: Antony Wilkinson
Saturday saw West Leeds RUFC mini and junior 'Lions' section take over the senior team's match day. 
The aim of the day – as described by junior chairman Dave Wilson – was to "bring the rugby sections together, both senior and junior. Creating an experience for the whole club."
Blue Hill Lane was packed to the rafters as the mini section did pre-match training, the under 7's and 8's had a tag game and the under 10's a match against the day's visiting team Huddersfield Laund Hill. There were player mascots and a guard of honour for the first XV fixture.
Parent Jo Hall, whose twins Seth and Archie play for the under 7/8's team, said: "The day was fantastic, it brought the first team and the juniors together as they usually play on different days. My boys loved walking out with the first team for their match.
"It gave the kids a real sense of the rugby community, a real family atmosphere. I'd say it's given my boys more drive to keep playing and getting better. The club house afterwards was brilliant, it had a great buzz of excitement."
The event saw the West Leeds team come out victors in a thrilling 54-13 win over Huddersfield. Activities for the kids involved a bouncy castle, spin the wheel, sweet sale and a raffle. There was also a special 1st XV player of the match trophy presentation with the winner chosen by the children.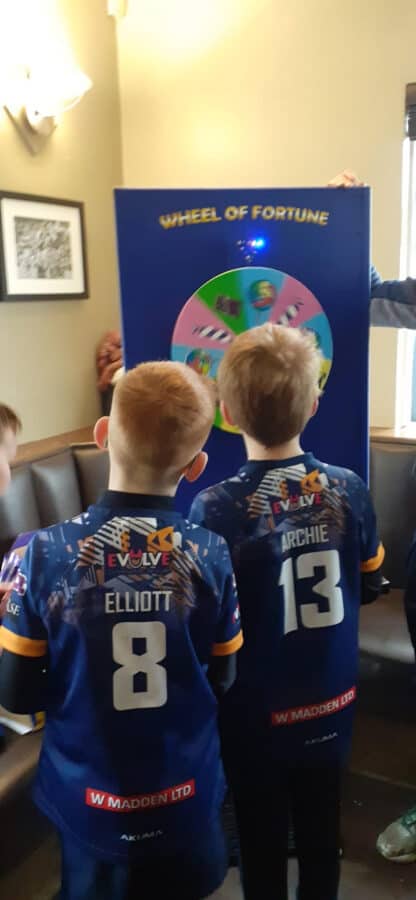 Dave Wilson added: "The day was incredibly successful with circa 70 kids playing pre-match and taking part in the player escorts and guard of honour. Smiles on faces throughout tells its own story!
"Through the raffle, wheel of fortune etc a few hundred pounds have been raised however the day wasn't about the money, it was about having a great day down at the lane, player (junior/senior), coaches and parents."
Anyone who would like to get involved in playing, coaching or supporting the team can contact Mr Wilson on 07976 682894 or e-mail davidwilson2301@gmail.com.