By John Baron
Developers behind the multi-million pound Kirkstall Forge development hope to have both new office and residential developments up and running 'within a couple of years'.
They told West Leeds Dispatch that a combination of the Covid pandemic, the cost of living crisis and the war in Ukraine had all impacted progress on both commercial and residential elements of the major development of the 57-acre site.
Their comments come after an apparent lack of development on the site had been questioned boy some local residents on social media.
The development has been master-planned to include up to 1,450 new homes, 300,000 sq ft of offices and 100,000 sq ft of retail, leisure and community space.
Detailed plans for 213 houses and apartment blocks were first approved by the council two years ago – but CEG say it's only now that they are ready to go with the next phases of commercial and residential development at this site.
Antonia Martin-Wright, commercial development director of CEG, said people should 'watch this space'.
"We are pursuing a new office occupier for our next office block," she told WLD. "It's a two-year build from when we secure an occupier. Hopefully in the next couple of years that will happen, and there is a similar timescale for the residential development, if not sooner.
"It's true, the office market has dipped in terms of confidence. We are also looking to see how we can bring forward the residential scheme as well.
"Most developers have been hit by huge financial pressures, whether that's construction, labour and energy costs – they've all gone up in price as inflation soars.
"But we've been using this time to make Kirkstall Forge better. Far from standing still we are currently looking at the buildings. We're looking at the designs and how we can make those better. We're looking at how we can save costs, but also how we can can do everything better.
"Talks are ongoing with our architects and we're engaging with Leeds City Council planners. Both the office and housing markets are very different to before the pandemic, and we have to take that on board."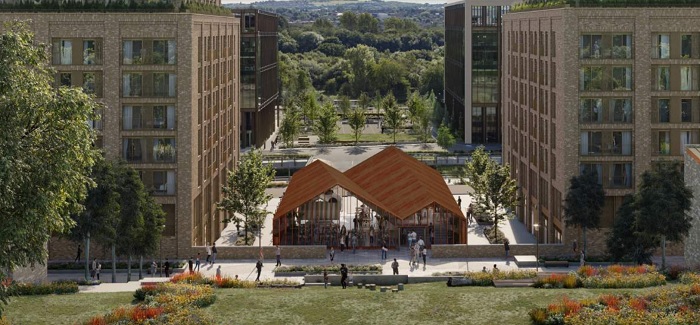 Two prototype houses were built on site in 2019 for CEG workers to test out, but new plans for housing on the site may be different to reflect changing market conditions.
There was an initial flurry of activity at Kirkstall Forge between 2016. This included the building of a new train station, flood relief works, and the building of the flagship Number One office block – but then Covid arrived in 2020.
Ms Martin-Wright said since then a lot of work had been carried out 'below ground' in terms of remediation work to make Kirkstall Forge what she called 'oven ready' in terms of being able to move forward.
"People should watch this space as we're in a good position," she added. "We've certainly not been mothballed. We have been in the city since 2003 and we will be here for a long time to come. We aren't just developers who build things and move on, we have a genuine investment in the city, our northern office employs 50 people at Number One and we have continued our investment in Kirkstall Forge."
The Number One office block has been running at 90 per cent capacity and houses about 1,000 workers. It was used as a storage place for PPE during the pandemic and a number of local community groups – such as a breastfeeding group and a walking group – meet at Butlers cafe, alongside a food and baby bank.
"We might not have had diggers in the ground, but we've been very active," Ms Martin-Wright added. "Number One has morphed into a different place in the past few years. It might not be something you necessarily see as you go past on the train or drive on the A65, but we have been very busy with lots of community activity."
One area CEG has been focussed on is the pioneering skills campus Forging Futures, which has seen over 1,400 people going through its doors at the edge of the development. It provides vocational training, apprenticeships, site visits and work experience for students, local people and young people not in education, employment or training.
Community liaison manager Lucinda Yeadon said: "We're passionate about providing long-term benefits to the local community, and Forging Futures Campus has proved an incredibly successful way to deliver new skills, training and job opportunities.
"We're so proud of those who have taken part and have seen such a positive impact on their lives. And this is something we do all the time, we feel we have a social responsibility, not just when the diggers are at work. We also carried out online courses all through lockdown."
CEG says it has spent more than £100 million on the site so far, with £30 million alone on the Number One block. It has been the main sponsor of the popular Kirkstall Festival over the past 15 years – including Saturday's event, where it ran a tea tent.
Lucinda added that after 800 years the forge was the longest continually used industrial site in Europe, and that a lot of cleaning and remediation works have been carried out in recent years.
"We are here for the long term," she added. "We want to create good quality sustainable places to live and work that are environmentally sustainable, and we have been ahead of the curve with that. There will definitely be lots going on here in the future."