Plans for 28 properties have been submitted on an empty quarry which contains woodland off Pudsey Road, Bramley.
The outline planning application by C&C Developments includes 14 dwellings and a block of 14 apartments with car parking on a site which overlooks Post Hill woods.
A planning document submitted alongside the plans says previous planning applications for smaller schemes have been approved on the site but are no longer viable:
"The most recent permission is for units with associated parking and access … Such a proposal is now financially unviable and more importantly undeliverable.

"The new proposals for 14 apartments and 14 dwellings now makes a more efficient and full use of the site. Most importantly this has helped improve the financial viability of the project which means that if permitted the development can come forward immediately."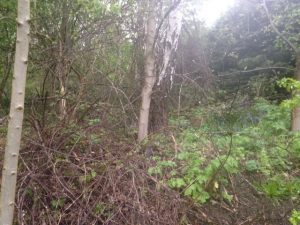 The proposed development seeks to remove more than half of a wooded area protected by Tree Preservation Orders in order to build five housing units on the eastern side of the site.
The report adds:
"Both the ecological and aesthetic quality of the TPO area has been shown to be poor, and not befitting of a 'woodland' label. Furthermore, through a high-quality planting scheme, ultimately the quality of the landscape will be improved."
The council's nature team have already objected to the removal of the trees.
But the developers add:
"This proposal seeks to deliver much needed housing through the development of a vacant quarry which has the benefit of an extant planning permission.

"The aim of the proposal is to increase the housing density of the site to make better use of the land for development and enable construction to start by proposing a viable scheme whilst maintaining the character and appearance of the surrounding area."
Plans can be viewed – and commented upon – here.