By Damon Sugden and Rev Richard Dimery
Owing to the COVID-19 pandemic and in light of the risks posed, the annual Pudsey Remembrance Sunday Parade, church service and Last Post at the Cenotaph will NOT take place this year.
We recognise this will be deeply disappointing for all who were due to take part and it is not a step that has been taken lightly.
This decision has been taken by the Government based on expert advice to protect the health and well-being of those who would have been travelling to and participating in the event.
But… Remembrance isn't cancelled this year – the ongoing risks of the pandemic are still with us so we're going to have to remember differently.
We are asking you to please not gather at the Cenotaph – we can't gather as a community, but we can still remember, as a community.
So, the Pudsey & Farsley Branch of the Royal British Legion, Pudsey Parish Church, and local councillors have planned a programme of events to encourage you to mark Remembrance this year, away from the Cenotaph.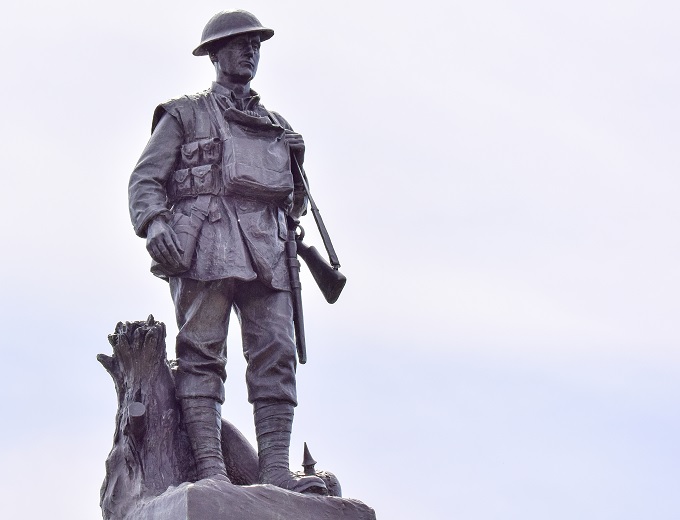 Please take part in our programme of remote and socially distanced Remembrance activity, including:
• Planning a huge Remembrance Poppy display for you to take part in – there will be 2,500 poppy crosses at Pudsey Parish Church available for a donation to the Poppy Appeal before Remembrance Sunday (5-7 November) to then plant in the churchyard's field of remembrance to create a beautiful display
• Please decorate your window with a poppy. You can download one here or draw your own (here's a video showing you how)
• We are encouraging people to decorate a small pebble with a poppy, or something appropriate, and place it near a War Grave in Pudsey Cemetery (a map showing the War Graves will be in the cemetery noticeboard)
• Pausing for the Two Minute Silence at 11am on Sunday 8th November in your home or on your doorstep – please do not gather at the Cenotaph
• Mark November 11 with two minutes silence at 11am at home, at work, or on your doorstep
• Watching our online recorded service of Remembrance to be broadcast by Pudsey Parish Church on Remembrance Sunday; An invite-only small service including wreaths and silence will be recorded to watch at home on your computer, tablet or phone from 10.30am, to include the two-minute silence so everyone can take part virtually
• Pudsey Wellbeing Charity are planning a themed local history trail for your household to follow around the town – details to follow
• Participate in the Poppy Appeal "Move to Remember" and visit local War Memorials
• Flags and Poppies plus the illuminated Tommy (at the Cenotaph) will be attached to the lampposts
Please hear our plea to not gather at the Cenotaph this year, which we know will be a loss as we make an effort to protect others.
As we remember and respect those who served, who followed instruction at personal cost to put others' lives ahead of their own, please help us honour them rightly this year by serving one another in putting the safety of others ahead of our own preferences.
Pudsey & Farsley Royal British Legion Branch and Rev Richard Dimery