A fantastic charity calendar has been launched to help fund and support community groups at the Pudsey Wellbeing Centre, writes Damon Sugden.
The centre is aimed at improving quality of life and reducing loneliness through the work of community activities and groups. They focus on socialising and give people the opportunity to get out of the house with a wide choice of activities.
The new calendar features artwork from renowned local artist Geoff Lea and members of the Art Workshop group.
The 12 images in the Pudsey Wellbeing Charity 2020 calendar represent the best of both Pudsey and Yorkshire landmarks.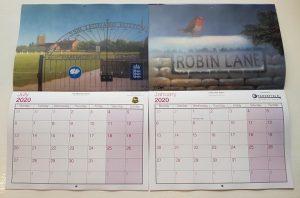 This has been a true community team effort and has been generously backed by local sponsors to ensure every penny from its sales go to the charity.
Some images in the calendar are from artists within the art workshop group; Jean Norris painted 'Tears for an Unknown Soldier' which is featured on November to coincide with Remembrance Sunday.
Local artist Geoff Lea, who runs the free Art Workshops, said:
"When we started this about seven years ago the Doctors were noticing that people were coming into their surgery not just for ailments but because they were feeling lonely and didn't have the best quality of life. The Doctors advised their patients to come along and join one of our groups.

"Now there are about 17 groups and we'd started off with three!"
The Art Workshops are run by Mr Lea on Monday afternoons between 1.30pm and 3pm. All equipment and materials are provided free of charge. He added:
"People can come down and if they don't have any money it doesn't matter, its a good little workshop. In fact this workshop has varying degrees of proficiency but its important that they've joined the group and are communicating with people which gets them out of the house and doing something different. I'm just a facilitator, I wander around helping them."
Dr Kate Hill, Chair of Trustees for the Pudsey Wellbeing Charity, said:
"Thank you to Geoff for producing the fantastic artwork for the calendar, and the members of the art group for contributing, and an important thank you to the sponsors who have made all the difference to this calendar – its a big boost to have your help.

"Our aim (as a charity) is to promote the health and wellbeing of people in Pudsey. The community centre offers a hub essentially where people can come and join in activities, or just meet one another and socialise and have a chat.

"We offer free meeting space to groups that are led by volunteers and also we have the benefit of the fabulous Cafe Lux for people to come and socialise. "
The Pudsey Wellbeing Charity 2020 Calendar is on sale now at just £4.99 from the Pudsey Community Hub and Cafe Lux, on Robin Lane.
Local businesses are invited to stock the calendar on a sale or return basis.
The calendars sponsors have kindly paid for production costs – so all money from the calendar sales go to the Pudsey Wellbeing Charity.
Pudsey Wellbeing Charity is a social hub which provides activities for the community, all run by volunteers.
The aims of the charity are:
1. Support mental and physical wellbeing by creating a social and network based at their centre in Pudsey.
2. Provide a range of facilities for recreation and leisure occupations for the benefit of the inhabitants of Pudsey and the surrounding areas.
3. To improve quality of life for the general public with particular focus on the socially isolated, and others who may have specific needs on account of age, disability, social or economic circumstances.
The charity offers space for local volunteers to run groups and activities for people in the community (now more than 17 groups including the Art Workshop, a Choir and a Walking Group).
Anyone is welcome to attend these groups which are mostly free with some asking for a small donation.
Thanks goes to the following 2020 Calendar Sponsors:
Grangefield MOT Centre, The Grove Care Home, LT Cleaning Services, Mr & Mrs R. Whiteley, The Bearded Sailor, Rentequip UK, Pudsey St Lawrence Cricket Club, Rodley Carpets, The Fleece – Fartown, Mahony & Ward, PDS Windows, Marlene Blake and Dianna Murdoch.
Anyone wishing to find out more about the activities and events at Pudsey Wellbeing Centre, can visit their website.
_____________
While you're here…
Producing your daily dose of West Leeds Dispatch comes at a cost!
There's the hosting of the website you're reading now, running our popular e-mail newsletter, membership of independent press regulator Impress, attending summer events, paying for equipment etc etc.
We need at least £200 a month just to break even – that's money currently coming out of the pockets of dedicated volunteers who are passionate about what's happening in our communities, connecting you with local groups and organisations as well as holding decision-makers to account and championing local issues.
And all that's BEFORE we even think about paying something for people's time – for instance, our editor puts in more than 24 hours a week in his 'spare' time to ensure The Dispatch publishes daily.
To put it bluntly, after nearly four years of daily publishing, we are not sustainable!
And we need YOUR help to continue …
For the cost of less than a couple of cups of coffee you can help support local community news and continue to give our communities a voice by taking out a subscription for just £4 per month (that's just a pound a week).
As a thanks you'll get your name on a roll of honour on our website. More importantly you will be enabling us to keep bringing you the news that matters about your neighbourhood.
Achieving a bedrock of supporters will give us a firm financial footing and help us plan for the future.
Supporting us couldn't be easier…
Just follow this link.
or set up a standing order with your bank:
Contact us on Paywestleedsdispatch@gmail.com if you'd like to do this.
Over to you …