A community partnership improving residents' lives in New Wortley is being recognised at national level.
New Wortley is bottom of the league tables for deprivation in Leeds and has the highest rates of male suicide in the city. It was in the news for the wrong reasons again last week with Leeds magistrates granted closure orders banning anyone who does not live in the high rise flats from entering them following problems with drug dealing and anti-social behaviour.

But local residents and agencies have fought back to:
Create innovative new ways of working
Deal with long-standing social problems
Won £3.5 million investment in the last 18 months, including a new building at New Wortley Community Centre.
Starting a local business forum. Get in touch if interested @NetworkerMe @thebigword @BARCALeeds @RachelReevesMP @tomriordan @WLDispatch

— 'New Wortley CC' (@NewWortleyCC) February 11, 2016
And their efforts now been recognised as an 'outstanding' Our Place project.
Our Place partnerships develop plans to tackle local issues and have the potential to influence how local budgets are spent, redesigning and potentially commissioning, managing or delivering services locally – potentially 'revolutionising' the way their neighbourhood works.
Some nice pics of our nearly ready new building! @AishaIqbalYEP @RachelReevesMP @MyCommunityHelp @BigLotteryFund pic.twitter.com/OifSrb7lyM

— 'New Wortley CC' (@NewWortleyCC) February 27, 2016
In New Wortley there are now new employment and training opportunities – including a local business forum – and new local health initiatives.
New Wortley Community Centre is running a variety of community events and courses, including creative writing projects.
Leeds West MP Rachel Reeves said:
"The way local agencies such as the police, Thornton Medical Centre, Castleton Primary School, BARCA and residents groups have come together, doing groundbreaking work to bring about real change, is an outstanding example of what collaborative working can achieve.

"I have been particularly impressed by the commitment of the people who make up this community, they want things to be better for themselves, their neighbours and most importantly their children. I hope that the 'Our Place' project continues to drive real change in the area and inspires other communities to do similar types of work."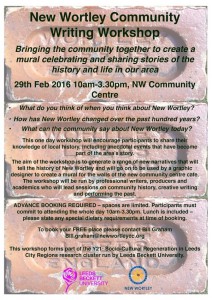 Local resident Kimberly Frangos added:
"Our Place has been a great process, it has really brought the right people together who can and want to make a difference in New Wortley."
There will be a celebration of the project at New Wortley Community Centre at noon on Friday, with Steve Reed MP – shadow minister for communities – confirming his attendance.
The Dispatch has previously reported on the work of volunteers at New Wortley Community Centre.