Words and photos: Lizzie Whewell
As TV presenter Helen Skelton found out, there's more to the Seagulls social enterprise than recycling paint, mosaic workshops, the gallery and their zero waste shop.
Former Blue Peter presenter Helen cut the ribbon for a new and innovative venture aimed at supporting care leavers and ex-offenders – the spectacular Seagulls' Life House. 
Nestled in a disused factory off Kirkstall Road, the Seagulls team have turned an empty space into a fully functioning workshop space for printing, silversmith and jewellry making, wood and metal work.
The most ingenious part of this new venture however, are the custom built 'pop up pods' that look exactlty like the rooms you'd find in a house or flat.
Here, care leavers and ex-offenders can learn how to decorate a room from top to bottom.
On leaving the Life House, these young people are then equipped with the confidence and skills to create their own personalised and colourful spaces at home. 
For many, decorating is but a chore when we move house or feel the need for a change. We know the difference between satin and matt; where gloss should and shouldn't go and that turpentine is the king of cleaners for clogged up paint brushes (other products are available!).
This isn't the case for everyone though as Ruksar Ajmal, from the Seagull team shared. Ruksar said:
From someone who has been in prison, you go inside with nothing and come out with nothing.

"When you do get out and get your own place, you struggle to navigate your way through even the simplist of everyday tasks.

"You don't have the confidence or the DIY skills needed to make a house a home; there's an automatic fear that you'll fail, so often you don't even bother trying. That's where the Life House project fills a huge gap; somewhere to learn what to do and how in a really positive and fun environment.  It's amazing."   
In Leeds there are over 500 care leavers at any one time, about 200 of whom live in their own properties.
These young people and ex-offenders are often allocated council or social housing that can lack a homely and personalised feel.
Without the support of parents or family friends, there's often no-one to ask for advice or help for everyday tasks such as painting and decorating.
Rob Lyons, also from the Seagull team, is a care leaver. He said of the new project:
"When I left care, I didn't even know that there was more than one type of paint, never mind what to use, how much to use or where to put it!

"The Life House scheme teaches you all this, with people who've been in the same place as you so you don't feel like the odd one out. I think it's great. " 
Following development work with Leeds City Council Care Leavers Team (CLT), the need for a 'Life House' was identified to provide painting, decorating, basic life skills and most importantly, nurture independence for these young people.
At the grand opening, Joel Hanna, the Head of Service for Children, Looked After and Care Leavers, said:
"We're so lucky in Leeds to have such forward-thinking and progressive social enterprises to support our care leavers. It's innovative, it's inspirational and it will make a huge difference to so many young people."
Workshop instructor Leon Varga is one of many who have tirelessly transformed the once-empty workspace into a funky and functional learning space.
Open to care leavers, offenders and the public on Tuesday 19 November, there's plenty to learn at this unique community based initiative:
"We have timetabled courses for people from all social backgrounds. From beginner level, we will support people every step of the way to get to the advanced stage; to feel confident in their own abilities and be inspired to turn their houses into a real home they can call their own."
Cat Hyde and Kate Moree, both Co-Founders of Seagulls, have come a long, long way over the past 20 years.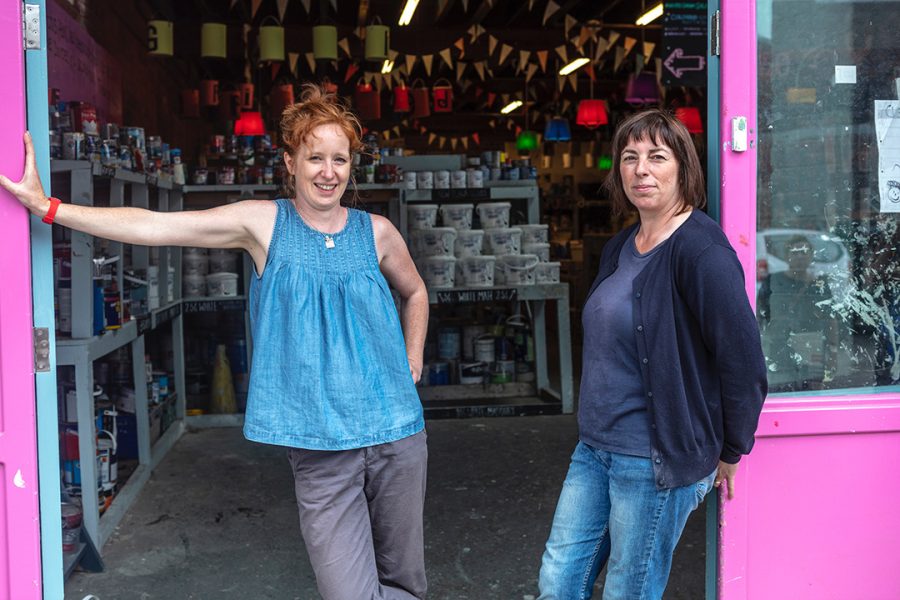 From the seed that was sown at Kate's kitchen table, their enterprise is built from passion and revolves around the 3 P's – Planet, People, Profit ('because there is no Planet B').
The idea for the Life House has been 10 years in the thinking, dreaming and making, after an appearance on Channel 4's Secret Millionaire series.
It was following their success on the show that led them to think big, to think beyond providing affordable, quality recycled paint and employing vulnerable adults, to buidling a dedicated workable space that delivers hands on training to those most in need. Cat said:
"Having somewhere to call home is particularly important for vulnerable people because it provides the grounding they have sadly so often not experienced. 

"We have a successful volunteer programme called 'We Grow People', working with some of the most marginalised people in Leeds.

"We understand paint and we understand people so Seagulls Life House is a natural progression for us and the work we deliver."
If you have any specific questions then you can get in touch via e-mail catandkate@seagullsreuse.org.uk.