By Bobby Tait and Matthew Shaw
A community centre in Bramley celebrated the completion of renovation work to improve the conditions of the space for its local residents.
Broadlea Community Centre was in a state of disrepair. Run down, old furniture was littered throughout the spaces and there was signification restoration work needed to improve the site to a satisfactory and usable standard for its visitors.
Barca, the community charity who operate the venue, partnered up with Overbury, an award-winning renovation company who had previously worked on redesigning headquarter space for companies such as Channel 4 and the BBC. 
Bill Owen, operations director of Barca, said:
"Upstairs was unusable. The whole place felt generally run down."
Rachel Shaw, community health manager for Barca added: "Upstairs looks 500% better."
Georgina Murphy, CSR and delivery improvement manager of Overbury, said:
"Because we also work a lot with big companies we also asked what can we do to give back to the community. That's what motivated this project."
It wasn't just Overbury and Barca involved with the renovation work. Many of the supplies needed to be sourced from elsewhere and Crown Paints supplied the paint needed to finish the job. 
James O'Flynn, sales manager for Crown Paints said Broadlea Community Centre provides a safe space for recreational activities and aiding community cohesion and added: "Community centres like this reduce crime rates and anti-social behaviour."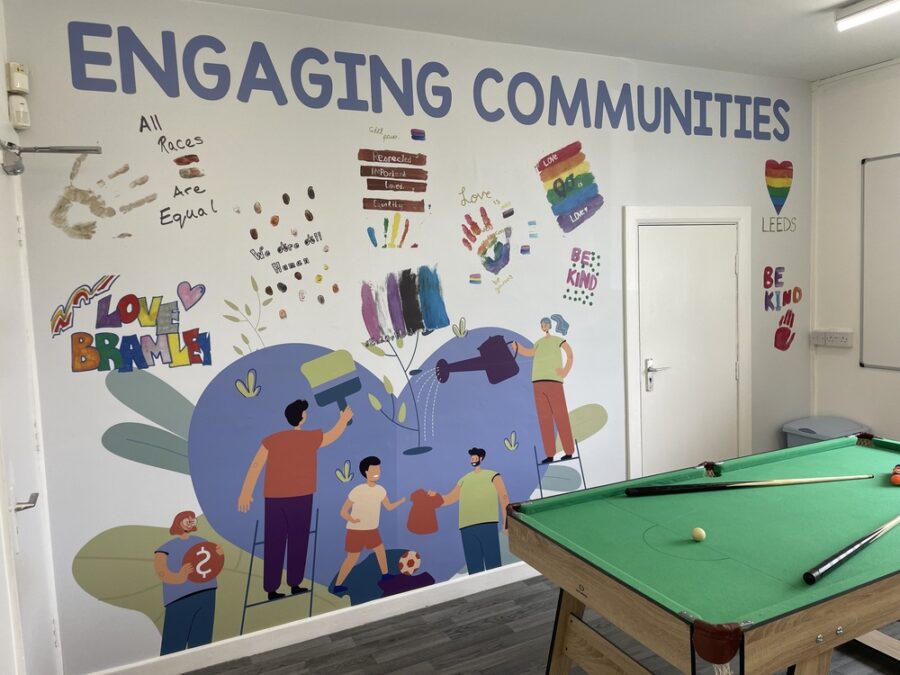 Laura Minney, a youth worker and activity organiser for Barca commented on the new mural wall in the recreation space that is made up of artwork created by children in the local area.
The children are said to be in for a surprise when they see their art on the wall of their local hub.
"They don't know about it yet", said Laura. "It all started as an Anne Frank project and many of the creations were printed onto the bins in Bramley and Armley to brighten up the streets. We thought it would be a good idea to put their work on the wall as a nice surprise for them."
Cllr Caroline Gruen (Lab, Bramley and Stanningley) said the best thing about the renovation was the "gifting" of time and resources from people in the community. "It has been our dream for years," she added.
As time goes on, hopefully, this will lead to more and more people using the space to bring the community together and offer services, activities and increased general support.
Cllr Kevin Ritchie said the place looks "brighter and more inviting and hopefully this will lead to the increase use of the centre from now on".