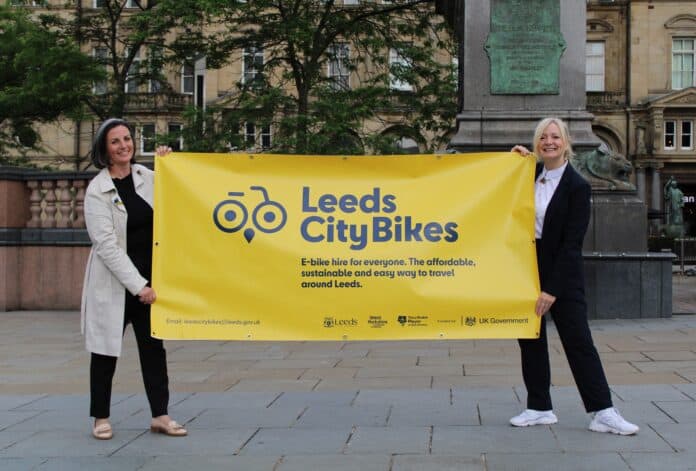 By David Spereall, local democracy reporter
Around 650 electric bikes will be made available for hire in Leeds later this year, after a new scheme was signed off on Friday.
It's hoped the system, which is expected to launch in September, will provide a green alternative to the car and encourage more people to take up cycling.
Cyclists will be able to travel in and out of the city centre by picking up an e-bike from a docking station, which will be dotted around a number of Leeds' inner suburbs, such as Armley, as well as in the heart of the city.
Users will have to register via a mobile phone app and will have to return the bike to a docking station, rather than just abandoning it.
The scheme, which was first publicised last year, will be operated by Beryl Burton Bikes, who already run e-bike systems in Norwich, Bournemouth and Greater Manchester.
Speaking at a West Yorkshire Combined Authority (WYCA) meeting where the plan was given approval, Leeds councillor Helen Hayden said she was "delighted" it was going ahead.
Councillor Hayden, who is the council's executive member for infrastructure, said: "The operator is very experienced and very excited to come to Leeds. We've got a lot of confidence in the operator and I'm really pleased we're having docking stations.
"It won't be like when you go to London and bikes are strewn here, there and everywhere. They have to go back in a docking station.
"I'm really excited about this, especially for the students coming back (in September), it will be great.
"Growing up in Leeds in my twenties and thirties I never thought I'd ever see so many people going into Leeds city centre on a bike."
Councillor Hayden said docking stations would be in place in a "circle" around Leeds' inner suburbs, with Meanwood and Shaftesbury Junction among the first in line to benefit.
Outer areas of the city will be excluded initially, although it's hoped that if the scheme is a success it can be rolled out further.
WYCA officer Vicky Dumbrell said: "Orders have now been placed for a proportion of the bikes.
"Leeds has a lot of cycling infrastructure already in place on its roads and there's confidence this will be a success."
Around two thirds of the £2.8m bill to set up the system will be footed by the taxpayer, with the rest being paid by Beryl Burton Bikes.
Ms Dumbrell also said that a quarter of the operator's profits from the scheme will be reinvested into it, to "ensure it's a success".
Electric charging points to be installed
Between 500 and 1,000 electric vehicle charging points will be installed across West Yorkshire over the next couple of years.
The points will be financed by a £14.3m grant from a government fund aimed at making electric vehicles more appealing to drivers.
The West Yorkshire Combined Authority (WYCA) says much of the cash will be targeted on terraced streets, where residents typically have no driveway and no access to a charger.
Speaking at a regional transport committee on Friday, WYCA's interim head of transport policy, Rachel Jones said: "It's important to point out we're looking at a focus on residential areas without off-street parking.
"Also, we're looking at low-speed charging points, because the anticipation is a lot of the vehicles will be charging overnight."
WYCA says it's unable to be any more specific about the number of charging points the cash will fund, because setup costs will vary between urban and rural locations.
More details about where the sockets may be installed are likely to emerge at the back end of the summer.
The news will be welcome to motorists who've done battle with their local councils over running cables between their home and their vehicle.
One such driver is Claudio Franco, from Morley, who last year claimed Leeds City Council had rejected his request for a dedicated parking space on his terraced street, so he could charge his car up from a wall in his house.
The local authority said then that the cables were a trip hazard to pedestrians.
Speaking at Friday's WYCA meeting, senior Leeds councillor Helen Hayden said the new points would help reduce this problem.
Councillor Hayden, who is executive member for infrastructure, said: "We've some very dangerous activity going on at the moment, either in terms of cables coming from windows above, or out of doors and across pavements.
"We need to get it (the infrastructure) as quickly as possible."
City centre cycle lane funding
£23.12 million funding provided by Active Travel England will help build new cycle lanes in Leeds, as well as traffic-free paths in Wakefield and walking routes in Calderdale, in a bid to promote healthy travel, reduce emissions and grow the economy.
It comes as West Yorkshire has been recognised as one of the 'Top Tier' authorities in the country by Active Travel England, leading the way in providing cycling and walking opportunities for people across the region.
Schemes to be delivered through this funding include new cycle lanes in Leeds City Centre, as well as traffic-free paths in Wakefield, which will provide attractive alternative choices for local journeys.
Further improvements will be made to the canal towpath network in West Yorkshire, including the Huddersfield Narrow Canal towpath between Slaithwaite and Marsden in Kirklees, and the Huddersfield Broad Canal between Aspley Marina and Cooper Bridge.
There will also be a West Yorkshire wide 'Schools Streets' programme with upgrades on walking and cycling routes to schools and key facilities across the region, including St Luke's Hospital in Bradford.
This latest investment of £23.12 million was secured by the Combined Authority and local authority partners from the Department for Transport's (DfT) Active Travel Fund, following a submission to government, in February 2023.