Fancy a fun night of murder, mystery and mayhem inspired by the controversial opening of a swingers club in Armley? BRIONY AXE had a blast at the latest muder mystery night at St Bartholomew's Church. Here's her report …
The second free-to-attend murder mystery night, hosted by Armley-based charity Community Central CIC, got off to a killer start on Friday night.
Residents from inner West Leeds were joined by the Lord Mayor of Leeds, Councillor Jane Dowson, for a night of food, drink and deadly entertainment at Armley's legendary St Bartholemew's Church.
Earlier this year, Community Central put on their first murder mystery night for West Leeds residents.
Presented by entertainment company Murder One, and funded by the council's Inner West Community Committee, the aim was to bring the local community together for an interactive performance, different to anything else on offer.
After the success of the first event, Community Central set about organising a second, but this time recruiting members of the local community to write and perform the story.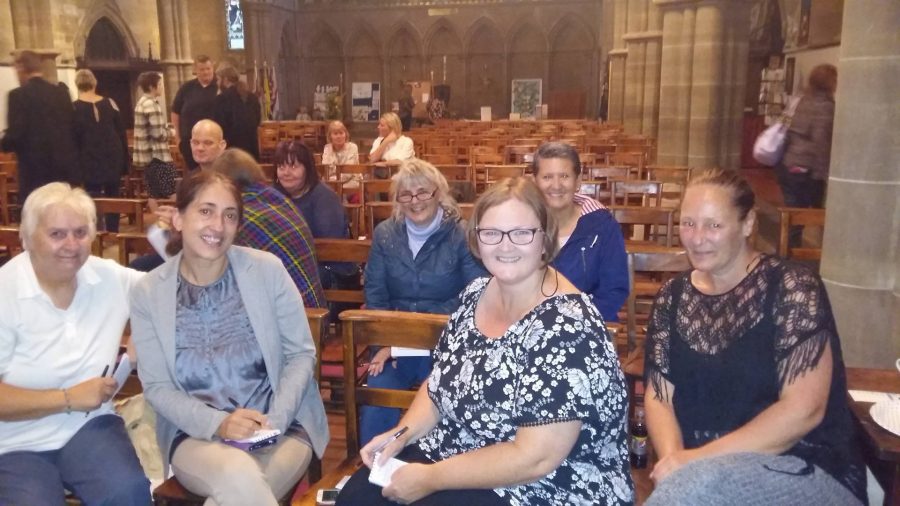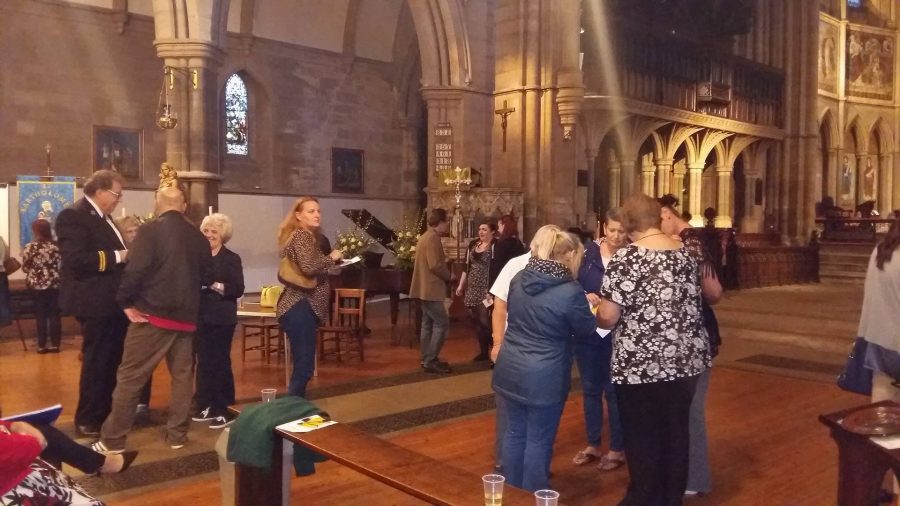 Residents got together for regular workshops and came up with a story revolving around issues close to their community. Roxane Newsome, Director of Community Central, and who played adult-entertainment club-owner 'Cindy' said:
"This has been a delightful project to work on. Following the Murder One event back in April, we invited members of the West Leeds community along to workshops to devise and produce their own event which became Murder at St. Bart's II: Foul Play at the Forum.

"Taking inspiration from local, real life controversial plans to open a swinger's club in Armley, our diverse group came up with a highly intricate plot, involving a local councillor, and business owners with murky pasts, along with a neglected wife and an adoptee looking for love from an aloof birth mother."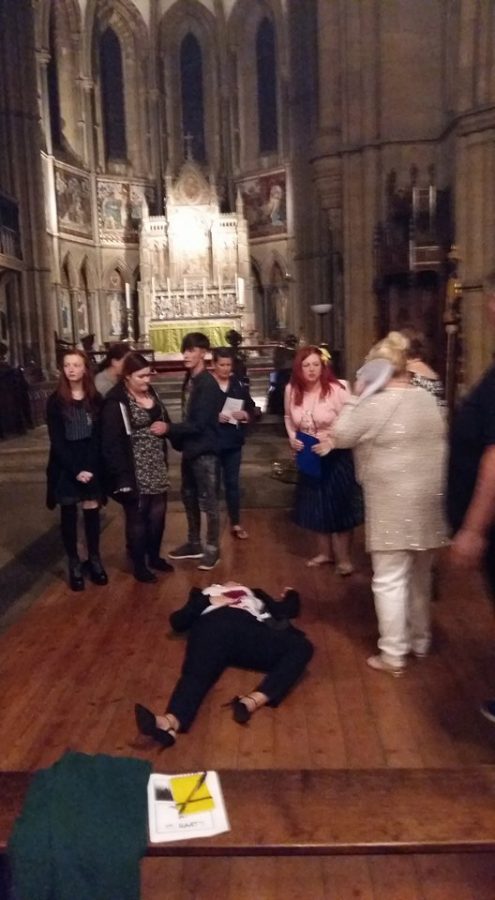 The performance saw the amateur actors play out a scenario in which several of the characters, including the aptly named local councillor 'Rachel Reed', were dramatically wiped out.
The audience were then invited to study evidence displayed on boards around the church, as well as on the fictional Facebook pages of each character, in order to solve the mystery and identify the killer.
Aron Thomas, another one of the directors of Community Central, added:
"The cast had never acted before but revealed an extraordinary talent for characterisation, supported by a gifted, well-organised stage management team who produced some quality evidence and kept the actors on track."
Residents were also joined by Leeds Lord Mayoress Jane Dowson, as well as Armley councillor Alison Lowe. Councillor Lowe said:
"Armley deserves a bit of fun and something a bit different, and this is definitely that.

"I'm really pleased that it's bringing communities together for some food and drink and to do something different with their Friday night. Well done to Aron and the team. And thank you for choosing Armley."
As well as the spooky spectacle, attendees enjoyed free food in the form of a buffet, as well as a subsidised bar, offering both alcoholic and soft drinks. Wortley resident Jacquie Browne commented:
"This is the best fun I've had on a Friday night in a long time."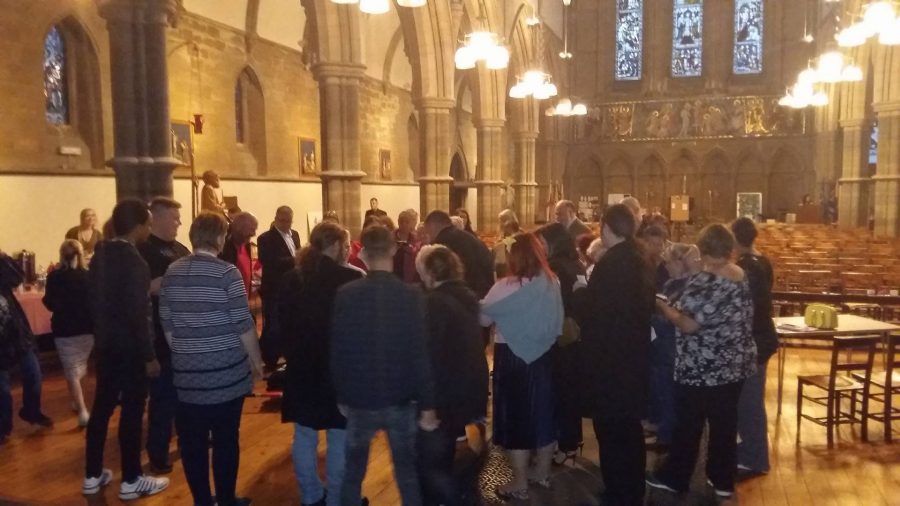 Another local resident, Sue Wilkinson, said of the evening:
"This is the first time I've been to one of these, but I've loved it. It's funny, it's confusing, it's captivating. They've put on a lovely spread food-wise and everybody's so friendly. It's a really good way to bring the community together, and I've really enjoyed it."
And it wasn't just residents who were full of praise for the performance. Lord Mayoress of Leeds, Councillor Jane Dowson was delighted to have the opportunity to attend – even being mistaken for a character in the play, due to her mayoral chain of office. During the performance, Councillor Dowson spoke to West Leeds Dispatch:
"This is such a fantastic evening and it all revolves around empowering communities, and doing it by having fun and getting together.

"It's amazing because there's people talking who've never talked to each other before, and everybody's having a great time.

"I am sure we will solve this murder, but that's not the point. The point is people are coming together and having a great evening, and maybe in the street or in the shops they'll say hello more and relations will improve and get better."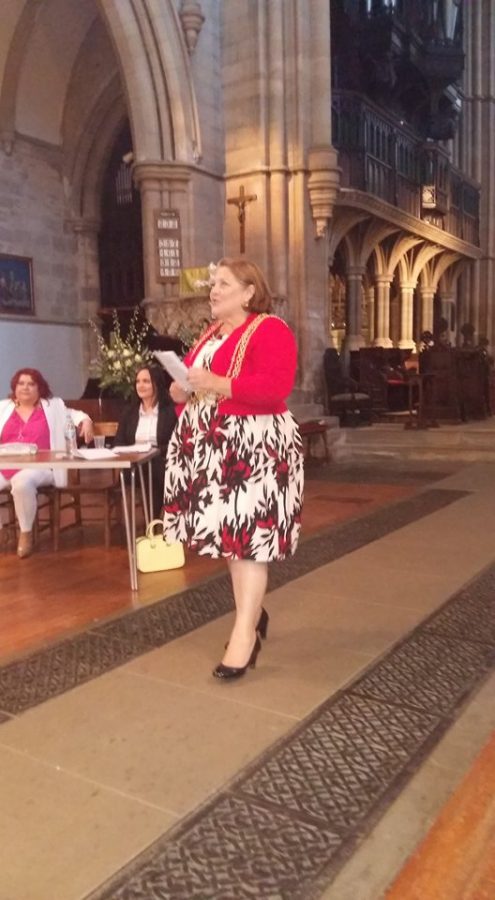 Alongside positive feedback from their audience, the cast were enthusiastic about the evening. Cast member Chris Jones, who played garage owner Roger Allcock, said:
"I went to my first meeting to meet new people and to get out of the house a bit more. I never expected to become part of such an amazing group of people and put on a wonderful evening. I'm proud of how everyone there on the night had fun and made new friends and I'm proud to be part of our great community."
With more events in the pipeline for this budding organisation, Aron is excited for the future:
"Community Central CIC has been taking the lead on community cohesion events throughout Leeds West. We continue to offer great programmes that help to empower communities and people. Community cohesion is one of the cornerstones of the work we do.

"In addition, we also run programmes that help to empower and improve young people. We still have vacancies for our newest project supported by the Church Urban Fund to help young people gain confidence, leadership, and how to stand up to bullying.

"These young people will be able to take part in trips as well as lazer tag, oxygen freejumping and bowling, all run by a great team of helpful supporters. We will continue to offer more programmes that will highlight how great of a Community Armley is and how wonderful Leeds West is as a whole."
To keep up to date with news and events from Community Central CIC, or to get involved, follow them on Facebook.