Words: John Baron
It was a perfect July summer's day down on the farm. The sun was beating down as a small group of volunteers diligently picked out the weeds from around the beetroot plants.
Other helpers were putting together the produce for their recently launched veg boxes, part of a new Harvest Share Membership scheme.
Sounds idyllic? It's just another day down at Kirkstall Valley Farm, a community run farm in inner city West Leeds which is within sight of the city centre and a stone's throw from the notoriously busy A65, yet quiet and tranquil enough to give the impression that you're miles from anywhere.
In fact if you didn't know where it was – it's behind the Ready Steady Store on Kirkstall Road – it'd be easy to drive past such a hidden treasure.
Nestled alongside the River Aire, it was privately farmed for many years until the leaseholder died in 2017.
It's clear from the start that this farm is special. It's a community supported agriculture scheme that employs a worker and, at its core, sells its veg boxes to local residents and shops to cover costs.
In the 12 weeks to February 2020 volunteers crowdfunded £45,000 from over 300 supporters to get the project going. The coronavirus pandemic sadly put back the plans, but 145 members have formed growing, structures, events, wildlife and marketing groups which have started to become active as lockdown eases.
In September 2019 Leeds City Council awarded local organisation Kirkstall Valley Development Trust the lease on the former Burley Mills Farm. The lease was signed earlier this year.
You certainly receive a friendly welcome on arrival. And you're immediately surprised by just how large the 16-acre farm really is and by how much activity is going on around you.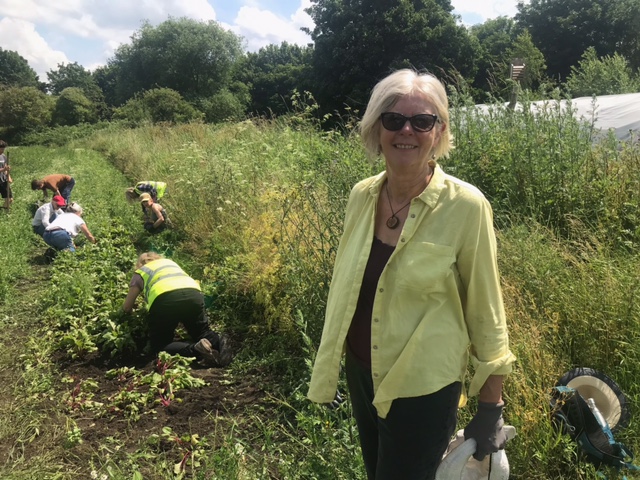 Liz Lewis is leading the Thursday afternoon group of volunteers, who plant, weed and tend the produce. Today they're weeding around the young beetroot planted several weeks ago.
Liz started volunteering on the farm last year as lockdown first fell. She spent much of her time helping to get the ground ready for planting and seeing what would grow well and in what areas. Liz said:
"It was a way of getting outdoors, working in socially distanced groups of six. It is such a beautiful place and was a change from being at home. I've been coming ever since."
She says proudly that the farm is aiming for 50 veg box subscribers as part of a new Harvest Share Membership scheme WLD first reported on here. You can sign up here to receive more information about the scheme.
Liz takes a couple of the volunteers to go pick some herbs from the beds nearby, leaving me to speak to the remaining volunteers, who seem such a friendly and contented bunch.
The Thursday afternoon volunteers Maggie, Nicola and Carole, all love growing things – and tit's clear that the farm is not only providing organic food for people and running wonderful community activities, it's also bringing people together to form new friendships.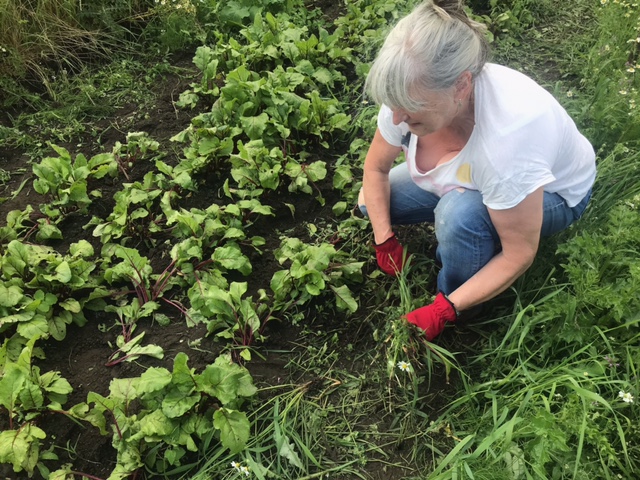 Maggie told West Leeds Dispatch:
"It is such a lovely place. I'm learning more about growing vegetables. It is a social activity, doing things with other people. You can feel the community spirit here."
Nicola had just started on the farm in the past couple of weeks and is loving it. She adds:
"It's good to support community supported agriculture and to grow food that doesn't have chemicals used on it – that's really important to me.

"It's great meeting new people and it's good to be outside, which is really good for your mental health. It's brilliant realising I feel good about what I'm doing and feeling good in general."
Carole was drawn to the farm because it is an initiative led by the community. She said:
"I am retired and was looking for somewhere to volunteer. This is a really nice way to volunteer, it's healthy and you're growing organically."
Carole said she particularly enjoyed the children's activities on the farm last summer.
In addition to volunteering opportunities at the farm, there are various events that run weekly including 'After School Club' every Tuesday and Kirkstall Valley Explorer Tots every Thursday.
Also, keep an eye out for 'Walk and Talk' sessions that run regularly throughout the year where you can go along for a walk around the farm, take a look, ask questions and find out about everything that's going on.
Roger Plumtree, Kirkstall Valley Farm manager, said:
"Community Supported Agriculture is a partnership between farmers and consumers; with the Harvest Share Membership scheme, once you purchase a 'share' of the farm you become a member. By becoming a member, you are supporting our local farm – be that through money, time, skills – and, in return, we provide good quality food for the whole season and look after the land."
Head Grower, Rhian Williams, was appointed earlier this year. He added:
"It's exciting to see it coming together and it will be great to see the farm as an embedded part of the community with members, not just getting vegetables, but feeling a connection with this local farmland, an understanding of how the food is grown, being part of the project, and knowing all their investment (be that time or money) is going back into the community."
Adele Rae, general manager of Kirkstall Valley Development Trust, said:
"Operating as a CSA provides our local community with a supply of good quality fresh food and opportunities to connect with the land and people that grow it.

"Having the opportunity to understand where food comes from, learn how to grow vegetables and prepare healthy meals are essential skills for individuals, young and old, to enjoy a healthy lifestyle in a sustainable way – the farm along with other KVDT projects enable this."
The farm is always looking for ideas, members, volunteers and future box buyers. E-mail roger.plumtree@kvdt.org.uk if you have any particular questions.
If you are keen to be involved in volunteering, e-mail Jenny Lawrence on kvfarm.jl@gmail.com.
For more information, visit the Kirkstall Valley Farm website and Facebook page.