Runners from all of the clubs in West Leeds recently took on the London Marathon – the hottest London Marathon on record! writes Jill Buckley.
Here's how some of the runners from the clubs across the area did …
Six runners from Bramley Breezers were taking part and this is the first year the club has taken part as an affiliated club.
Claire Jackson had meningitis six years ago and a heart operation last year but has gone on to achieve a lifetime goal by completing the marathon.
Claire hopes that her story will help inspire others to "believing they too can do it and achieve a goal in their lives no matter how big or small".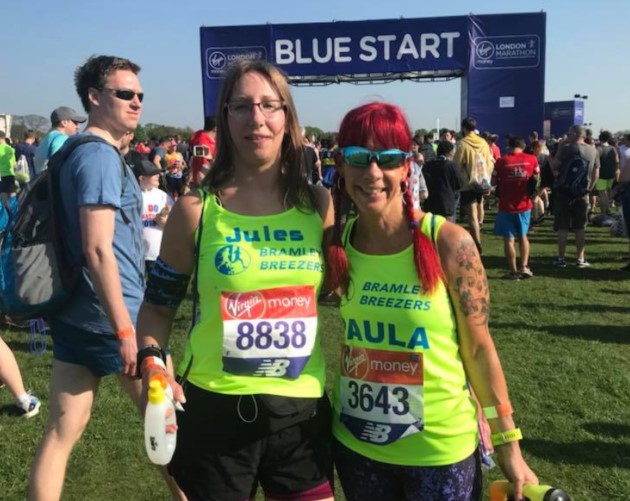 Paula Johnston ran with friend Julie Wilkinson and "absolutely loved" the occasion, particularly their ice lolly stop at mile 17!
Six Flyers took part in this year's London Marathon.
Alistair Wilson ran the marathon for Breast Cancer Care and Marie Curie for his Auntie who was diagnosed with Breast Cancer last year. Alistair wanted to thank his club members for their support:
"Without the support from them I'd have been nowhere near capable of running that distance."
Adam Beesting was running for Guide Dogs for the Blind. His family has personal experience of the work that the charity does as his father is registered blind and has a guide dog named Spencer who has helped him regain his independence. His nephew also has the same degenerative eye condition as his father. Adam says:
"I see Guide Dogs being an integral part of our family life for many years to come."
Adam has raised over £2,000 but you can still donate here.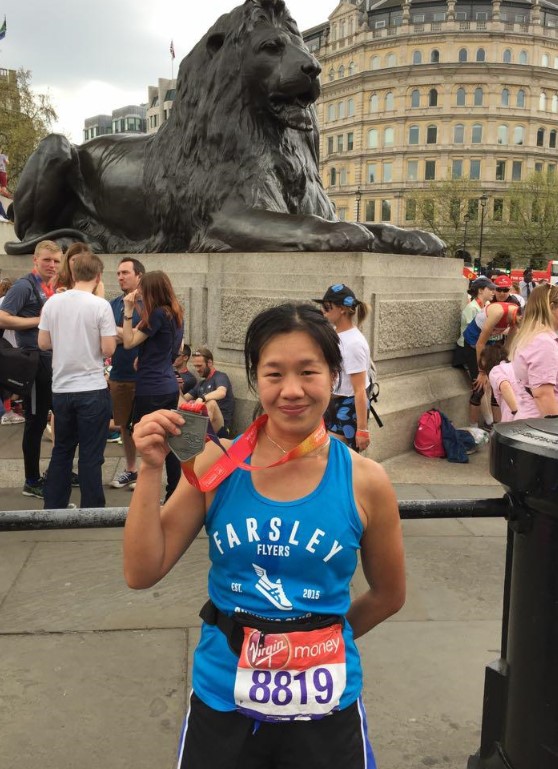 There were also six Harriers and these are some of their stories.
Hal Roberts completed London just a week after completing Paris marathon and a week before running the Three Peaks fell race!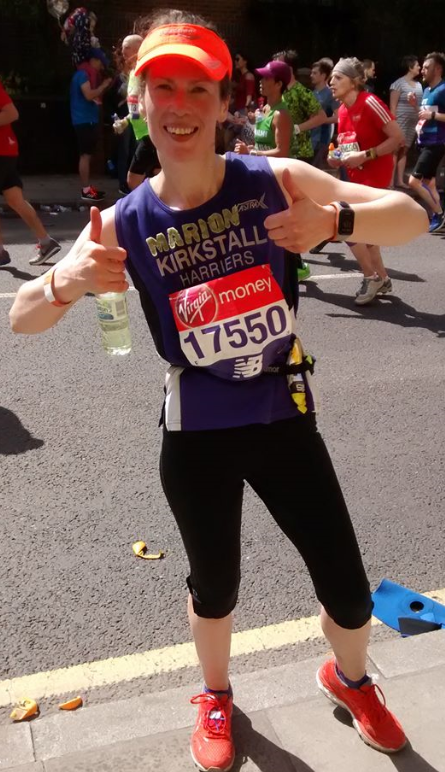 Marion Muir was taking part in her second London Marathon and raising money for Dogs for Good along the way. On a very hot day in London Marion said:
"I thought I'd entered Dante's Inferno today so I'm feeling very glad to have made it out the other side. Toughest thing I've ever done."
You can visit Marion's fundraising page here.
Hannah Lee completed her second marathon in a fortnight having completed Manchester marathon a fortnight earlier.
Richard Kennedy-Joyce was running his eighth marathon and has decided to hang up his marathon boots now. Richard finishes with an impressive record. Richard said:
"I can finish with a record of six Good For Age marathons, my sixth London Marathon and my eighth marathon!"
Richard has raised money for various charities through his running and this year was raising money for the British Heart Foundation. You can read more here.
Meanwhile Pudsey Pacers had 13 runners in the capital last Sunday!
Lindsay Johnson entered London to celebrate her 50th year. She began running in 2015 and says that this will be her first and last marathon, describing it as "an amazing experience, very emotional at times".
Lindsay secured a charity place for the National MPS Society, a charity which supports children who suffer from life-limiting illnesses. Lindsay said:
"Our friends little boy, Sam, has morquio and they have been absolutely fantastic. We reached our fundraising target and some more!"
William Overton was running his fourth marathon at London, his first being London in 1983! This time around he was prompted to use the occasion to raise funds for the British Heart Foundation following an unfortunate incident at Bramley parkrun last year when his friend and fellow Pacer Arthur Wood collapsed and suffered a cardiac arrest.
"I was also running at Bramley and was involved in the resuscitation. I am happy to say he has recovered and is running again."
Visit William's justgiving page here.
Kezzie Medford was awarded a place through the club to run her first marathon at London. She ran for Tearfund, a Christian charity that works all over the world where there is need: Kezzies' advice? "When the going gets tough, never give up!"
Armley's Samantha Stewart decided to enter London "as I felt at 40 if I didn't have a go now I never would."
Samantha's daughter has a lower limb condition and as the family have been supported by the British Red Cross mobility aids. Samantha decided to raise funds for them along the way, raising a fantastic £1,200! You can read more about her fundraising here.  Samantha says that she "absolutely loved the experience of running London. The supporters on the route were amazing".
Nic Anness was following in her father's footsteps at London, and both ran in memory of her brothers. Nic ran for Martin House Children's Hospice and raised over £2,000. Nic said:
"I chose this charity because they look after children with life-limiting illnesses, including the illnesses both my brothers had, and provide great support for their families."
You can visit Nics' donation page.  Nic said that London was "everything that people describe."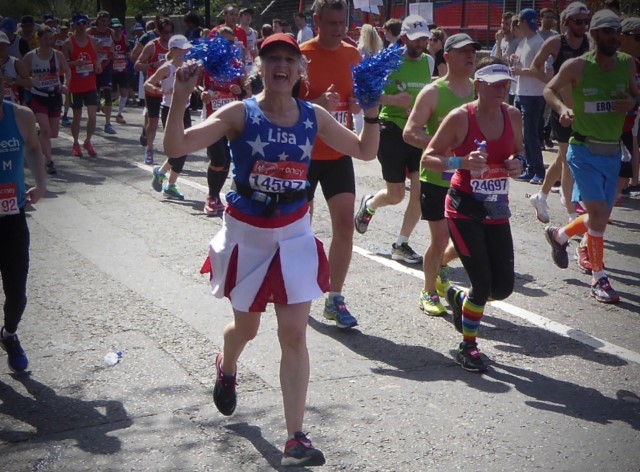 Lisa Heath was running her fifth marathon, four of which have been at London, this time dressed as a cheerleader. Lisa was running in memory of her friend who died of lung cancer earlier this year, aged just 48. Lisa decided to raise funds for the Roy Castle Lung Cancer Foundation.
Of the five marathons she has completed Lisa found this the toughest in the conditions:
"Although I have four other marathon medals I think this year's is the one I worked the hardest for."
Feeling Inspired?
Click on the links for the running clubs above for more information. All cover a wide range of abilities and many also run beginners groups specifically.
And don't forget there are plenty of parkruns in Leeds. Parkrun is a free 5k which you can run, jog or walk – and we have our very own in West Leeds at Bramley Park every Saturday morning at 9am. Simply register on the website then go for it!

.