Do you want to live in a co-housing community? Lilac is co-housing community of 20 eco-build households in West Leeds and is looking for new members to live there. Here is their guest post inviting applications for a two-bedroom ground floor flat…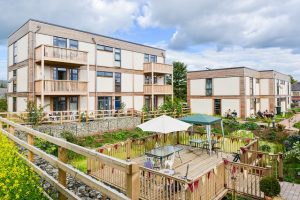 We are excited to announce that we are looking for a new member(s) to join our community in Bramley/Kirkstall.
This may be an individual, couple, family or someone wanting to share. The property available is a 2-bedroom flat on the ground floor. It has a small private back garden.
LILAC stands for 'Low Impact Living Affordable Community'. Established in 2013, we are 35 adults and 13 children living in 20 low impact straw bale homes. To reduce our environmental impact and create opportunities to socialise we have some shared facilities, including a separate 'Common House'.
We are a co-operative and a 'Mutual Home Ownership Society', meaning members own LILAC together. This innovative financial model aims to make housing affordable, forever.
Find out more on our website.
Together we work to:
Nurture a supportive, kind and respectful community
Create a fun place to live
Share work and ideas openly, happily and equitably
Create agreements and processes that empower
Sustain an inclusive and affordable legal and financial model
Support each other in low impact living
Foster good relationships with the local neighbourhood
Maintain and develop a beautiful, productive, stimulating space
Engage with others to inspire solutions for a sustainable world
Encourage and welcoming diversity
Interested? If you would like to apply you must:
Want to live in a community
Wholeheartedly support our vision, values and aims. You can explore for yourselves the range of ways LILAC members try to do this when you meet us
Be able to pay a deposit of £11,000 when you join us and meet other necessary financial criteria
Demonstrate that you could be ready to move within around 6-8 months
Fully engage with our recruitment process, so that we all get to know each other
See our website for more information.
We would love you to come and see what LILAC is all about at our community day on Sunday 22 April from 11am. Please tell us if you plan to come.
Then, if you think LILAC may be for you there will be an application day on the weekend of 5 and 6 May, which you must attend if you want to apply.
The formal application deadline will be Friday 18 May. This will be followed by a 6 week 'getting to know each other' period, during which there will be an opportunity to attend a series of social events.
If you are interested or have any questions, please e-mail live.in.lilac@gmail.com arrange an informal chat with one of our members.
We look forward to meeting you!