A special event to thank the community heroes and heroines who've done so much to help clean up asround Kirkstall Road since the Boxing Day floods has been announced. Organisers hope the event will continue to bring people together and forge a stronger and better conncected local community.
Open Source Arts is also forming a flood warden group and organising a river bank clean-up later this month. Phil Marken from Open Source Arts has written about the plans: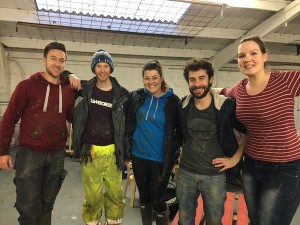 "First things first: The official 'Flood Cleanup Thank You Party' will be held at TCV Hollybush on Saturday, 28 May, 2016 – and it is our opportunity to get together to drink some good drinks, eat some good food and dance to some great local music and celebrate everything we have achieved in this last six months!
The day will begin with Lots of bushcraft and first play sessions for little ones run by Hollybush as well as face painting and other sunshine fuelled family activities from 2pm until 5.30pm.
Then we are going to be opening up the barn in the evening and welcoming some of Leeds's best local bands until midnight, presented with help from Open Source Arts and Cloth Cat – so come along and get yet knees up in the air and reconnect with the great community we saw coming out of the woodwork during the flood cleanup.
This is an exciting time for Kirkstall – we realise that we need to stick together as a community and as such, the thank you party on the 28th is going to be the first of many parties which are all about partying and thanking each other in good style – so we create the networks which we need to rely on in times of strife.
Please stop by for even an hour and let us pour you a glass or a cup of tea and thank you personally.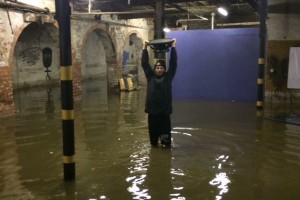 Riverbank clean-up
Other news is that Open Source Arts is forming a flood warden group which will start its work in the area by organising a riverbank cleanup on the 28th May before the thank you event goes live.
We are going to spend three hours on the morning of Saturday 28th collecting all the rubbish which has been washed up and into the trees and riverbanks along the air – got start somewhere – if you want to get involved in this cleanup please come to Open Source Arts at 10am and let us get you kitted out with gloves and bags and we can go cleanup the riverbank together.
We have lots of other exciting news coming shortly – but for the time being please SHARE SHARE SHARE and spread the word about the GREAT BIG STINKIN' THANK YOU PARTY which is all about saying thank you to everyone who put so much good will and sacrifice into getting kirkstall back on its feet again after the mid winter shenanigans.
Open Source Arts is drastically changed from its role as a volunteer centre but we have made sure that the space is going to continue to be accessible for all members of Kirkstall to use as a kind of community centre – for whatever ideas you might have or space you might need – please let us know how the space could be used! get in touch on facebook or by calling my on 07508 543473.
I really feel like this is the beginning of a fantastic year of linking everybody together to form a strong and resilient community for Kirkstall – ready for whatever the future might throw at us – from extreme weather to extreme stupidity!
With the utmost appreciation and gratitude – THANK YOU, and here's to the future!"