Gardening is very seasonal, though unlike a football season with a 'close' period it feels like every month there is something to be doing with Kirkstall in Bloom, writes James Corah.
Winter is no exception, we are already planning and arranging our projects for 2017.
This year has been far more successful than KiB could ever hope for, and certainly in January no-one on our committee could have predicted what did happen. Next year, who knows?
Well, there's already good indicators that 2017 will be very enjoyable.
On Saturday 26 November myself, Cllr Fiona Venner, Mandy Long (St Stephen's Well Garden), and Sam Meadley (Kirkstall in Bloom) started to clear out the St Anne's Lane Secret Garden.
We had quite a day, even though I've been volunteering with Kirkstall in Bloom for four years there are some things I've never got to try, such as using a sickle. That was fun, if a little tough (maybe there is something in the outdoor gym).
The plan had been to clear out as much litter and overgrown foliage as possible so that we could get a sense of the space available to us.
There was a lot of ivy in the garden, it seemed to blanket everywhere, though thankfully not as much litter as we had anticipated. That said, there were a couple of disgusting things there.
The four of us set about hacking and clipping back the ivy, and had quite a natter while doing it.
Burley Top Community Association held their Christmas Fayre on the same day, and it was lovely seeing Santa make his way around Burley! As you can see from the images, we cleared a lot of ivy.
What are the next steps for the garden? Well, there's some clearing out still to be completed, and the ground needs to rototilled.
This will take place in January/February 2017, and I am hoping to have more information in the new year.
There's been a few suggestions about what to be done, pallet benches and raised beds are a strong possibility. Joanna Dickson (Burley Top Community Association) also made a suggestion of making tiny fairy doors for the trees, which can be moved around to make the secret garden extra special.
Kirkstall in Bloom finished its year in very good cheer.
We had our last 'proper' session of 2016 on Sunday 27 November, working around the Drink and Be Grateful Fountain Garden.
A fair few bulbs went in, and we cut back the lavender. This causes the most amount of 'concern' among our volunteers, we tend to cut right down the branches though this can feel too much when one first does it.
I say it was our last 'proper' session because during December I set out planting bulbs randomly across Kirkstall, having borrowed a planter from the Newlay and Whitecote Residents Association.
Sixty bulbs did not go as far as I would like, though next spring there should be a little extra peach and purple colour about the place.
The final good cheer for Kirkstall in Bloom came with the publication of the Leeds Architecture Awards category nominations.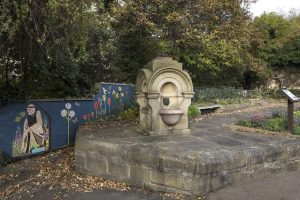 Myself (as Secretary), Hannah Corah (Chair), and Sam Meadley had known in advance that the Drink and Be Grateful Fountain Garden and mosaic, though it caused quite a lot of surprise as it became more widely known.
The nomination represents all the efforts and work our volunteers and partners put into making Kirkstall look blooming marvelous.
Thank you, all of you, for the commitment and giving up your time, for providing guidance and offering support, for helping keeping us motivated.
See you in 2017, we've got some amazingly good projects to show you.