Preview by Damon Cooper, community reporter
Some of their videos shared on social media feature a Marsden Court-esque tower block so performing in Farsley is more a less a gig home from home for Skinny Living.
The band's name describes the financial reality and lifestyle of the working class – hard graft on a low income with a lust for life, passion for family and an optimistic attitude about the future. A vibe that very much resonates with The Old Woollen venue due to the event organisers having a longstanding ethos of providing entertainment for working persons.
It is the first sold out night this year for The Old Woollen team and just one of many in a hectic touring schedule for Skinny Living that has so far seen full capacity gigs in Bangor, Glasgow, Liverpool, London and in their hometown Wakefield.
Just a lucky 500 people will be squeezed between four walls to see this band perform their soulful hits which is perfect for the winter months but I'd like to think come summertime popular gigs like this could be scaled up by moving them outside to the Weavers Yard if justified by the demand.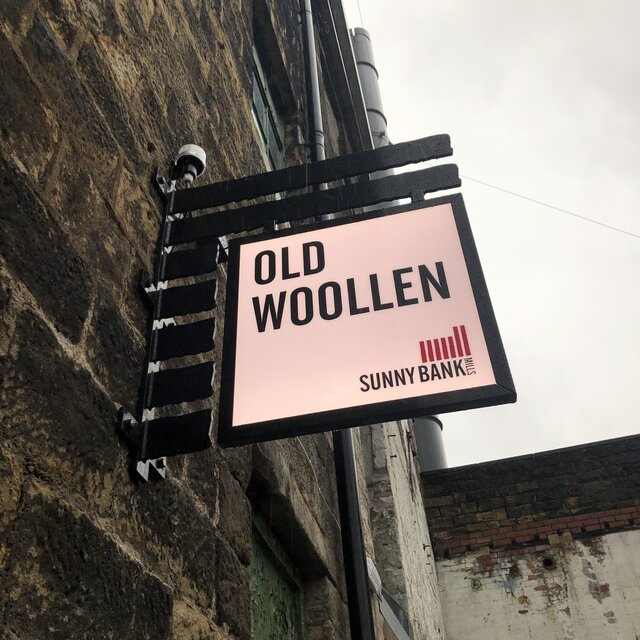 Imagine if you could sing, your mom came from Springbank, dad from Farfield and you'd get near enough to be our very own version of Ryan Johnston. Only he's the front man for Skinny Living, born in Belfast to a Catholic mother and a Protestant father. If his parents could get on then there's hope for our diverse village yet!  
Ryan swapped Northern Ireland for Wakey where he met band members Will Booth and Danny Hepworth at an open mic night in a quest to earn a living from music.
From these humble beginnings, Skinny Living became active in 2014 and went onto amassing over 60 million streams across their various social media accounts, gained 120k new followers, went to Nashville plus a Sold Out UK Tour and first ever Top 100 UK chart position in 2022.
This success is something Edwin Woodhouse, the former owner of Sunny Bank Mills (where the Old Woollen is based) from the 1880's until 1912 and the previous Mayor of Leeds would be pleased about, having been a known benefactor to the musical heritage of our city with his support of sopranos, contraltos, tenors and basses.
Skinny Living have a more modern sound but are well deserving of sharing the same spaces encountered by those before them that made all of this possible from hard grafters on the looms to modern businesses making Sunny Bank Mills their home and allowing places like here to thrive.
In a viral social media post last year, frontman Ryan shared his band's remarkable turnaround after a bleak time coming out of the pandemic: "I had a choice in front of me at the end of 2021, to give up on my dreams because a long path I had walked hadn't worked out as planned.
"It shook me. I remember standing looking into the sky over the bare trees in my garden contemplating how tired I felt and how disappointed I was in the process.
"Then I thought about the music, I thought about my best mates, the story, the message, the connection and the positive impact made on those people's lives that we had been able to reach.
"I remembered the words of a respected major label executive at one of our early gigs "If this band doesn't become a household name it will be our fault and not theirs". He said it because he seen how much our music meant to the people in the room on that night and heard them singing back every word!
"But there was no room for us on national radio, no DJ to champion us, no production sound or technique that could make us fit in, no photographs, no styling, no marketing trick that could make us current or relevant enough in the eyes of the industry to get behind us and push our music out into the world and we had been compressed by all of it!
"I looked back at the beginning of our journey and I seen how much we stuck out! The penny dropped, it was time to push aside all pretence and focus on what really mattered! Take advantage of all we had learnt over the years and make it work for us as an independent band representing our culture with no intention to fit in.
"Reaching new ears is all that Skinny Living ever needed to do and I believed that with our songs and the people behind us, we could reach more than ever before without traditional media support and we did!"
The band has enjoyed 10 million views, 120,000 new followers, visited Nashville, enjoyed a sold out UK tour and enjoyed its first top 100 UK chart position.
"We've got so many new songs and for the first time ever enough money made to keep our heads above water!
"After such a low in 2021, 2022 has been the most amazing year and it's reaffirmed my belief that in life none of us should ever give up on our dreams or ever let anyone stand in front of them! No matter how hard it gets, find a way and get it done."
From chance encounters to pure hard work, it feels like destiny for Skinny Living to perform at the Old Woollen: a band and a venue we can all get behind.
John Baron
Thu, 27 Feb 2020, 10:00 to John, me
Sponsored content