by Robert Beaumont
Jane Kay, the inspirational creative director at Sunny Bank Mills' acclaimed Art Gallery in Farsley is leaving after 10 years at the forefront of the Mills' creative regeneration.
Jane, along with Sunny Bank's co-managing directors William and John Gaunt, has established the gallery as one of the finest independent art and making spaces in Yorkshire.
Jane, who arrived at Sunny Bank 10 years ago after a successful legal career with a top Leeds law firm, said: "I am immensely proud of what we have achieved at the Gallery over the last 10 years.
"What started as a small independent pop-up gallery has developed into a fully curated independent gallery and shop, with an event and engagement programme providing artists and makers with spaces not only to exhibit and sell work but also to make it.
"Our diverse programme aims to make art accessible to everyone and demonstrate what art can be.
"In the past 10 years we have had exhibitions as varied as Throw Up which featured graffiti in the former weaving sheds and included the world's longest painted carrot; the People Powered Press; Panel Show, an exhibition about comics; Lullabies in Lockdown, charting the experience of new parents in lockdown and. artmaker, supporting Henshaws Arts & Crafts Centre.
"I am particularly proud of our popular annual Ones To Watch exhibition, which has helped to launch and support the careers of over 300 promising artists and makers who are either from or studied in Yorkshire. Many of these have gone on to exhibit elsewhere, exhibited again with us and have remained in Yorkshire."
Jane went on to say: "The creative offering at Sunny Bank is so much more than the gallery. With William and John's support, the last 10 years has also seen the development of 25 artists' studios providing the Mills with a creative community. This brings its own vibrancy and appeal to Sunny Bank as a destination for culture whilst adding to the diversity of its tenants and helping fill a general shortage of studio spaces in Leeds."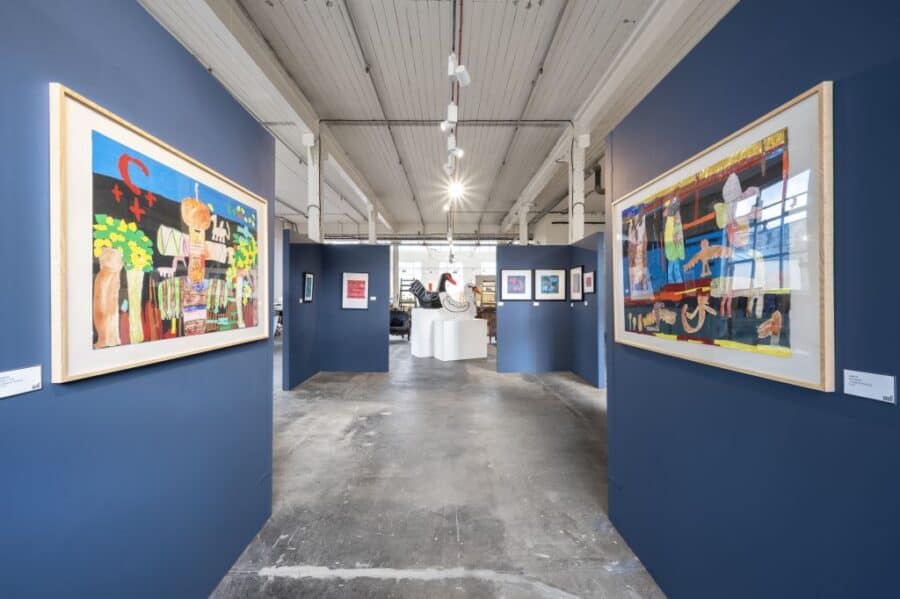 Similarly, the growth of annual events enabling artists and makers to sell their work directly to the public; this year Threads, a new textile festival adding to Printed Bound and the Christmas Market has opened the Mills to thousands of new visitors and a diverse audience. Additionally, the workshop and engagement programme is now an established part of the cultural landscape of Leeds; supporting artists and makers and providing a space for people and families to explore their own creativity.
Jane continued: "But it's time to step aside now and let someone with fresh ideas take the Gallery to another level. When I arrived in 2013, I had a dream and a blank canvas. With fantastic support from William and John, whose aims aligned with mine, we have turned my dream of creating a fantastic independent gallery into a reality.
"The sad truth is that there aren't enough large gallery spaces for aspiring artists and makers in Yorkshire, but at least we have created one. That is a legacy of which I am tremendously proud."
Jane will be greatly missed by everyone at Sunny Bank Mills.
William Gaunt said: "Jane's constant whirlwind of creativity has helped create Sunny Bank Mills into a leading arts space in Leeds. She leaves a tremendous legacy for the arts community in Yorkshire.
"Jane's vision has masterminded the creation of an ambitious visual arts offering at the Mills and has helped so many talented fine artists from across the country to further develop their practices whilst at the same time giving the visitor to the Mills an amazing experience."
John Gaunt added: "The arts and creativity are essential ingredients in the successful sustainable regeneration of Sunny Bank Mills. Over the last 10 years Jane has developed a creative programme that has been adventurous, bold and innovative and should be credited with bringing the Mills alive in areas that money just can't reach.
"Alongside our ambitions of mill regeneration, she has achieved her ambition to make art accessible to the local community and arts space accessible to artists to practice and sell their work.
"Jane's legacy of creative regeneration and accessible arts programming is now woven into the fabric of these Mills and we look forward to working with a new arts director to build on this amazing legacy."
Recruitment for the next Sunny Bank Mills Arts Director will start at the end of August. Full details will appear on the website: www.sunnybankmills.co.uk and on social media.
Sponsored content