It's been 100 years since Hainsworth Park was donated by mill owners to the Farsley community.
The great grandson of the great AW Hainsworth has continued his family's support for the park by backing a crowdfunding campaign to build a natural landscaped play area for physical and adventurous play next to the existing playpark.
Robert Hainsworth has contributed towards the Friends of Hainsworth Park's campaign to mark the park's centenary with the new play area. Mr Hainsworth wrote on the group's crowdfunding page:
"Thank you to all the sponsors and volunteers at the park – let's keep it going for another 100 years.

"I began to play in the park 70 years ago, enjoying the swings and roundabout. I learned to ride a bicycle on the footpath and taught my brothers to ride right there.

"We lived at Lyndhurst on the southwest corner of the park and AW Hainsworth was my great grand father and we are proud of the park that bears our name.

"Farsley folk have given generously, both in energy and funding and although i am too far away to help physically I am very pleased to help the funding. I will be in England next summer for a family wedding and hope to bring my grand children to play in Hainsworth Park."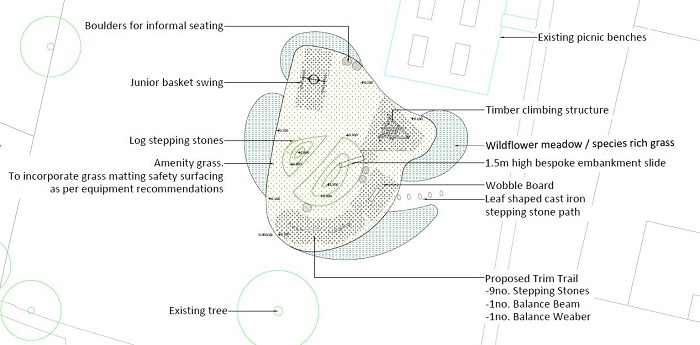 As previously reported by WLD, the Friends group have raised more than £30,000 through a variety of grants so far and their fundraiser has so far raised more than £5,300. The Friends posted on social media:
"Thank you Farsley! We didn't think we'd get anywhere near £5k for improved play equipment! However, to really improve the park we need a fair bit more. Extra money (to £15k) will enable us to lay a footpath to the play area (from the Boulevard) and amend the existing railings, as well as adding trees.

"Every pound given will help improve the quality of facilities on the park. So please donate if you can. We're pushing past our initial £5k fundraising target – can you help us get closer towards £15k by the end of the month?"
Equipment could include a climbing frame, trim trails, wobble boards, a junior basket swing and stepping stones, as well as a path through the centre. The area would be grassed and raised slightly to avoid becoming waterlogged.
The Friends group is also welcoming new members, particularly anyone who can help with their crowdfunding campaign. The Friends can be reached via Facebook here or via e-mail on: friendsofhainsworthpark@gmail.com.
The Friends group comes under the umbrella of the Farsley Community Initiative, which also supports Farsley Festival, Farsley Community Orchard and Farsley Farmers Market.
2021 marks 100 years since Hainsworth Park was given to the people of Farsley by the Hainsworth family for 'playing fields and use of unorganised games particularly for young people'.