We at the Friends of Pudsey Roller are a dedicated group of people, working to raise money for the affectionately named steam roller which had been in Pudsey Park for many years, writes Brian Woolhouse.
We are united in a passion to see it restored back to working condition again.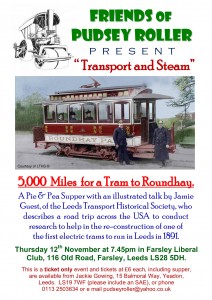 Friends of Pudsey Roller continues its successful fund raising series of Pie and Pea Suppers on the theme of "Transport and Steam" twice a year; late spring and late autumn.
Money raised from ticket sales will go towards the cost of food, and the rest to the Pudsey Roller.
This autumn the Friends will be meeting on Thursday, 12 November, at Farsley Liberal Club and all interested are welcome. The meeting will be on the subject of an 1891 Leeds tram.
Farsley Liberal Club has hosted the Friends Pie and Pea Suppers since October 2011 and is, as always, very good to us.
They make no charge for the use of the room and only ask us to cover the cost of the food; this we do by making a donation to them out of the ticket money raised, the rest going to the Pudsey Roller. Sales items and membership may also be obtained at these events.
To find out more about the project please visit our website.