The grade II listed Cardigan Arms pub, which had its basement flooded when the River Aire broke its banks on Boxing Day 2015 and was subsequently looted, is one of Campaign for Real Ale's top 200 heritage pubs in the country.
Campaigners hope to raise £300,000 by June to make the Kirkstall Road establishment the first community-owned pub in Leeds.
Here are five of the latest developments in the community takeover:
1 – New partners announced
A meeting in the Cardy last Thursday unanimously agreed to pursue the 50/50 partnership with Mood Pubs. Both the co-op and Mood will put up £300k to buy and refurbish the pub and appoint a tenant sympathetic to our community aims. Our vision for the pub will shortly be up on the web site.
2- Who are Mood Pubs?
Mood Pubs is a Leeds-based community pub operator which runs a number of  local pubs. One of the most notable is The Golden Lion, in Todmorden, which was saved and reopened after suffering flood damage in 2013. Mood is run by Peter Mason,  who has a record over the last few years of buying and restoring pubs (11 in all, they now own six). Their most recent is the award winning Wapentake on Kirkgate.
3 – You can buy shares from April
The race is now on to organise the community share issue for early April to give eight weeks before the restriction on Greene King from selling the pub comes to an end.  The share issue will be the main tool fundraisers use to reach their cash target. More on this to come.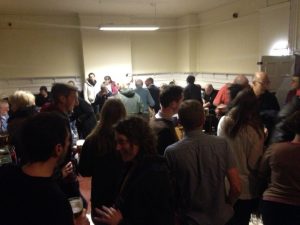 4 – Fighting fund needed
Until the share issue ends and there is no cash to run the campaign. They don't need a fortune, just a few hundred to produce banners, leaflets, adverts, upfront gig costs etc. If you can spare £10 or £20 …
1) Send a cheque to the address at the bottom made out to Cardigan Arms Community Pub
2) Drop in on one of our regular Thursday night meetings at the Cardy (7-30pm start)
3) Reply to this email and I will forward the bank details for a BACS payment
5 –  Beer festival stall in Pudsey
Campaigners will be running a stall at the CAMRA Beer Festival that runs from Thurs 16th March to the Saturday at Pudsey Civic Hall. If you think you can do a shift, e-mail jimbrettell@ntlworld.com.