Detailed plans for 213 new homes and a public square have been submitted for the multi-million pound Kirkstall Forge development.
The proposals, from developer CEG, include up to 2,076 square metres of commercial floorspace including possible pubs/drinking establishments and hot food takeaways.
The first residential phase will provide 213 homes, including 77 houses offering three to five-bedroom family living, designed by Stirling Prize winners Feilden Clegg Bradley Studios, alongside new apartments.
Developers CEG say the unique style of architecture is inspired by the local stone of the old forge building and Kirkstall Abbey, with space and light maximised with high ceilings and tall windows. They will offer open plan living opening out onto gardens and terraces across different floors, with roof verandas providing views of the valley.
Two apartment buildings are also proposed, just north of the River Aire.
Designed by residential architecture firm Cartwright Pickard, they will provide 136 studios to three-bed apartments with 1,350 sq m of leisure and retail space on the ground floor.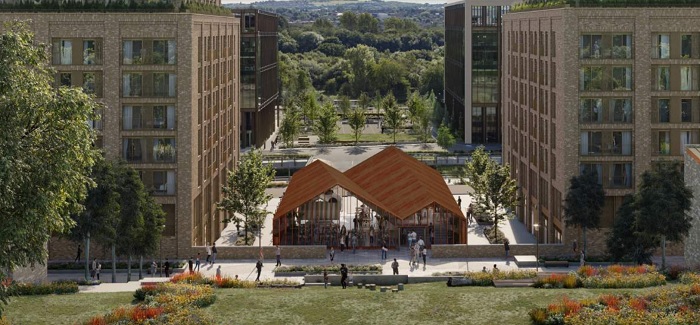 They will be set around a new public square called The Stitch, which includes a pocket park. This area will create a venue for organised events and informal gatherings at the heart of the development.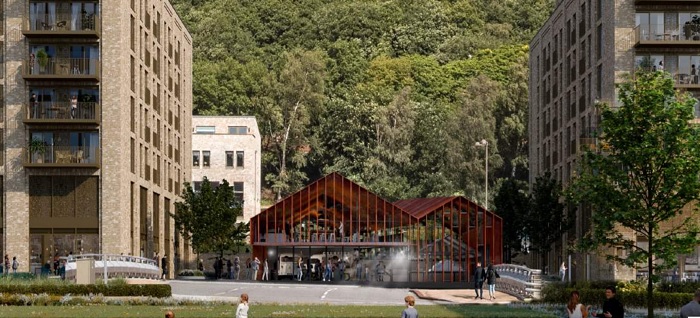 The principle of housing has already been established on the site, and Leeds City Council only needs to consider the detailed design of the housing.
CEG secured detailed planning permission for 135 homes last year and built two prototype homes which will be thoroughly tested by the team once Covid-19 permits. This housing design remains unchanged in this new application, but with four less homes this has enabled the two apartment buildings to be redesigned. Slightly taller, with upper floors set back to minimise the visual effect, more apartments are offered.
The plans can be viewed and commented upon here.
A public consultation on the plans was held in August.
The 57-acre site is already home to Number One Kirkstall Forge offices and Butler's deli restaurant, a new railway station and two prototype homes.
CEG is fast-tracking the detailed design for the next phase of offices after detailed planning permission was granted in June for offices and a multi-storey car park.
Ultimately, Kirkstall Forge will provide up to 1,450 new homes, 300,000 sq ft of offices and 100,000 sq ft of retail, leisure and community space.
Please support independent community led journalism in West Leeds…