A main road leading to Pudsey is set to close for seven weeks as work continues on building a £29 million cycle superhighway between Leeds and Bradford.
The left hand lane of Richardshaw Lane, at Stanningley Bottom, will be closed from Monday as work begins on building two mini roundabouts as part of the CityConnect cycle scheme. Traffic congestion and delays in the area are inevitable.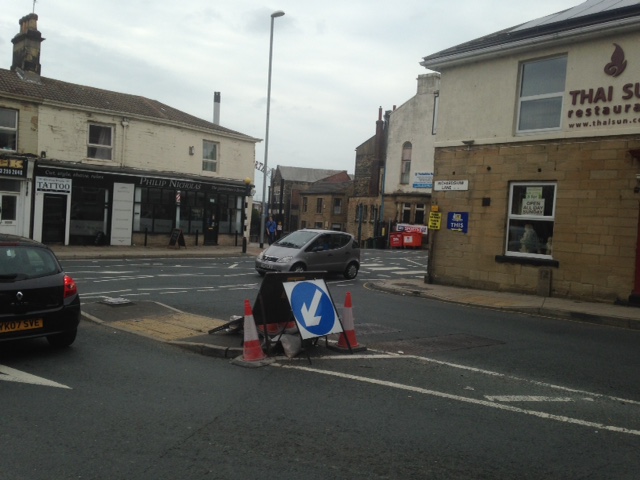 A notice issued by Metro this week says buses heading towards Pudsey will be diverted. Buses running from Pudsey will be able to operate normally on Richardshaw Lane.
Diversions include services 8, 9, 16, 16A from Old Road will turn right onto Bradford Road, left onto Stanningley Bypass before pulling off at the Richardshaw Lane exit, then run on normal route into Pudsey. Services 14 and 91 will run via Swinnow Lane, Swinnow Road and Lowtown.
Check out the Stanningley plans below:
City Connect Leaflet – Stanningley Bottom works
Work is scheduled to finish on Friday, October 2.
One local businessman told the Dispatch that he feared the closure would lead to traffic chaos:

"They are many objections against this and yet it's still going ahead. Stanningley Bottom is too narrow to really do anything with, let alone build a 'cyclehighway'. Are the mini roundabouts really justifiable? This work and closure will have a real negative knock on effect for all the local businesses in Stanningley."
Last month the Dispatch reported how members of the Armley Forum gave a lukewarm response to cycle superhighway work starting on Stanningley Road. In a Dispatch poll, 57% of people said the scheme was a 'white elephant'.
UPDATED Monday, 12.55pm: When funding was originally announced for the cycle superhighway, Cllr James Lewis, Metro chairman, said the cycle superhighway would "transform" cycling between Leeds and Bradford.
He said the route would link local residents to "employment sites, areas of housing growth and key economic regeneration sites" as well as encourage more people to use their bikes for commuting to and from work. This, in turn, would reduce the dependency on private cars.
The scheme also includes setting up a new organisation to deliver high-profile activities that encourage people to get involved in cycling and lead a healthier lifestyle as a result.
You can read more on the CityConnect scheme here.
What do you think? Have your say in the comments below.