People living on a stretch of busy Whitehall Road are living with daily problems of dust, dirt and debris from the road, caused, they say, by passing HGV wagons. Community reporter JO FIDDES paid a visit to find out more.…
If you are a regular user of Whitehall Road, Leeds 12, then you will probably have driven through dust clouds and avoided roadside debris on many occasions.
A main arterial route into the city centre from New Farnley and beyond, this is a busy road which is well used at all hours.
Walking the route should be pleasant. Along part of it there are fields and greenery on either side, and some impressive views into the city. However, you only have to be on the road for a minute to realise the walk isn't pleasant at all.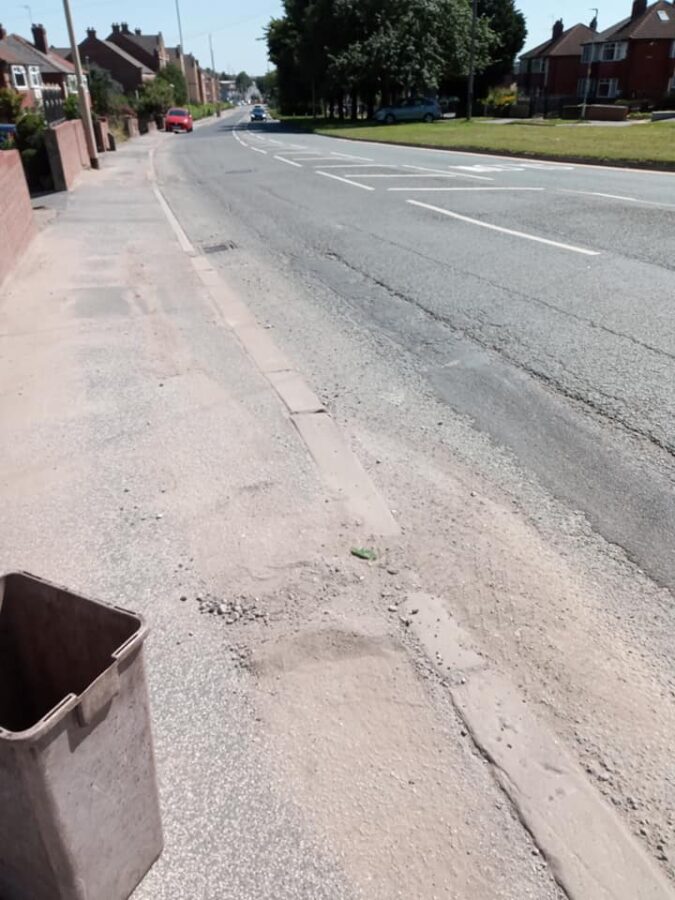 The view is wasted as too often you are looking down to avoid dirt and stones shed from lorries – and also walking through clouds of dust thrown up by traffic.
For some time now, local residents have been saying enough is enough and are lobbying the council to implement more effective solutions to the ongoing saga of dirt and debris. The council feel that the regular road cleaning they have put in adequate – the residents disagree.

Despite local objections in 2008, two Leeds 12 Whitehall Road locations were chosen as waste management sites – Far Royds and Whitehall Industrial Estate (formerly Ashfield Industrial Estate). These are "safeguarded waste management sites" until at least 2026.
Whilst accepting that every major city needs to address waste management, and so there is a need for sites such as these, from the outset local residents were concerned about noise, mud and dust.
In granting the planning application, the council felt these issues could be mitigated through regular road sweeping and on-site procedures to reduce noise and dust.
Thirteen years later and residents remain unsatisfied and maintain that these measures are ineffective – either because they aren't being implemented or because they were ineffective in the first place.
Last week I visited the site with local resident David Cockayne. This was the day after a heavy downpour, which washes away a considerable amount of dust and dirt – and yet roadside dirt and debris were plain to see.
Lorries and cars threw up orange dust clouds – an inconvenience for drivers in terms of cleaning, but much more concerning for the people who walk or cycle the route and are forced to breathe in these particles. David said:
"Cleaning of the road, whilst welcome, is not the answer, and the dirt should be addressed at source, as should the noise and general disruption. The council's last site visit took place the day after a thunderstorm so didn't reflect the true picture."
David and Anne Cartwright added:
"All these regulations, and still the dust clouds gather on Whitehall Road when the weather is dry. mud collects when the weather is wet, drains are clogged with mud, pavements have weeds growing in the mountains of detritus, rocks accumulate on the road and residents have to live with this muck on our roads, in our houses, on our cars, and in our lungs."
Residents now want to know if the planning regulations aren't being enforced – or if they simply aren't tough enough to begin with.
The issue has come up several times in the office of Leeds West MP Rachel Reeves. She said:
"Residents in Farnley and Wortley have been in regular contact with my office and have raised concerns about the ongoing issues at these two sites. Whilst I have been in frequent contact with Leeds City Council and the Environment Agency, it is clear that a more permanent solution is sorely needed."
A Facebook group – Whitehall Road in Leeds 12 – has been set up to collect personal experiences of using Whitehall Road. Residents are invited to share their stories there.
A Leeds City Council spokesperson said the authority was aware of cleanliness concerns raised regarding a specific stretch of Whitehall Road. They added:
"In response, we are ensuring that all planning conditions are being monitored and met. In addition, we have also increased the frequency in which the road is cleansed.

"We take any potential breaches of planning regulations extremely seriously and will always investigate any complaint that is made.

"If subsequently evidence of a breach is found, we will use all powers at our disposal to ensure that they appropriately tackled and addressed. We also work closely with partners and other agencies responsible for regulation to ensure all businesses in Leeds comply with relevant legislation and guidance."