Entering the former Barley Mow pub on Wednesday night was a slightly odd experience, writes John Baron.
The empty pub, which closed last year and is up for sale for £450,000, was in darkness thanks to the hefty steel shutters designed to keep the vandals out (and protect the windows from being smashed).
Its power had been cut off months ago and its dark recesses were lit only by an array of battery powered torches of all different shapes and sizes which had been brought in by local volunteers.
But the Barley Mow had enough energy in it that night to light dozens of empty public houses.
More than 100 supporters attended this special consultation event over plans for a community-led takeover of the building to send out a clear message – we want our Barley Mow back.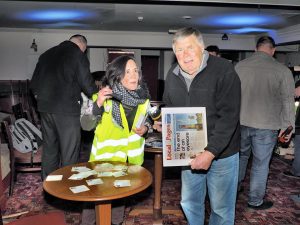 The energy came from the dozens ideas of potential uses for the pub. Of course, the Barley Mow Supporters hope it will still be a pub at the heart of the community – selling beer and food etc and acting as a community focal point as pubs do.
But the organisers were keen to emphasise that it could be so much more than a pub. The Grade II Listed building is huge inside – there was talk of a recording studio for musicians, a space for bands to perform, an arts space or a community radio station like they have in South and East Leeds.
Ideas were written – fittingly – on blank beer mats and post-it notes by enthusiastic attendees.
Could it be a place for community activities and a meeting point for young people and children in Bramley? Could local groups run from there? A community choir, perhaps? A mum's group – perhaps a cafe?
Could it be somewhere for young people to go for apprenticeships, training and access to technology?
Or could a bed and breakfast be run upstairs?
The possibilities are endless, and it's all positive stuff which can make a real difference in the community. That's why the supporters are saying this project is about it being 'more than a pub'.
Of course, making all this a reality is going to be easier said than done.
Former Leeds West MP John Battle (one of the leading lights behind the successful community takeover of Bramley Baths in 2013) is one of a core group of people including Fuzzy Jones, Fran Graham, Sophie Michelena, Karen Allen and others who are championing these latest proposals.
John says the Barley Mow community takeover is much more difficult that taking over Bramley Baths as the building is in such a poor state – and that any community activities (and trade in the pub) would have to be introduced from a standing start.
And there's the matter of paying any potential mortgage and securing funding to not just run the building, but restore it as well. And pay staff.
It could also be that the Barley Mow Supporters get gazumped – there are rumours that the health centre on the other side of the road might be interested in taking on the building. Or that a Chinese restaurant might be on the cusp of making an offer.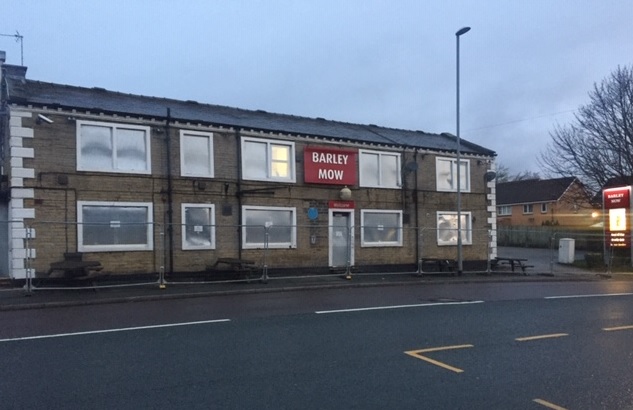 But you get the impression that this group have piqued people's interest and passion for creating a new community facility in Bramley. This movement could continue with or without the Mow itself – it's an opportunity to create something that, in passing at least, has similarities to Sunnybank Mills in Farsley, which has given Farsley Town Street area a new lease of life.
While Wednesday evening was energising and inspiring, there are naysayers on social media who point to the need to overcome The Barley Mow's past poor reputation. And there are those who say: "You'll never pull this off, this is Bramley, after all."
The first point is sound, the second point is nonsense. If any community is ever likely to pull it off and introduce Leeds, it can ONLY BE Bramley.
Why? Because it came together and saved its beautiful Edwardian swimming pool from closure and supported it into becoming a profitable community-led business. Because community organisation Bramley Elderly Action has taken both Bramley Lawn Social Centre and Bramley Community Centre from the council's hands and made them thriving successes.
There are also plans on the Fairfield estate for a local group to take on the Fairfields Community Centre.
Bramley also pays host to its own credit union – a savings club for local people. And the Friends of a War Memorial for Bramley achieved their target in 2014 of having a war memorial in place by the 100th anniversary of the start of WWI.
This was a huge undertaking with lots of hard work involved by many in the local community, but Bramley's special when it comes to this sort of thing.
Taking ownership of the Barley Mow may be the biggest challenge the people of Bramley have faced, but with the energy, passion and commitment shown on Wednesday night, the Barley Mow could yet be a brilliant, shining light of community ownership.
Last orders? Not yet!
___________
While you're here…
Producing your daily dose of West Leeds Dispatch comes at a cost!
There's the hosting of the website you're reading now, running our popular e-mail newsletter, membership of independent press regulator Impress, attending summer events, paying for equipment etc etc.
We need at least £200 a month just to break even – that's money currently coming out of the pockets of dedicated volunteers who are passionate about what's happening in our communities, connecting you with local groups and organisations as well as holding decision-makers to account and championing local issues.
And all that's BEFORE we even think about paying something for people's time – for instance, our editor puts in more than 24 hours a week in his 'spare' time to ensure The Dispatch publishes daily.
To put it bluntly, after nearly four years of daily publishing, we are not sustainable!
And we need YOUR help to continue …
For the cost of less than a couple of cups of coffee you can help support local community news and continue to give our communities a voice by taking out a subscription for just £4 per month (that's just a pound a week).
As a thanks you'll get your name on a roll of honour on our website. More importantly you will be enabling us to keep bringing you the news that matters about your neighbourhood.
Achieving a bedrock of supporters will give us a firm financial footing and help us plan for the future.
Supporting us couldn't be easier…
Just follow this link.
or set up a standing order with your bank:
Contact us on Paywestleedsdispatch@gmail.com if you'd like to do this.
Over to you …