Pudsey Bear paid a visit to Calverley Church of England Primary School to help them go 'Spotacular' for BBC Children in Need.
The Big Spotacular has seen schools and nurseries across the country adding a spotty theme to their fundraising, whether they've organised a Pudsey picnic for their little ones, a spotty bake sale or a sponsored challenge for their older pupils.
Pudsey Bear was invited to surprise pupils at Calverley Church of England where he met hundreds of pupils and teachers to thank them for their hard work raising funds and learning about the work the charity does helping disadvantaged children and young people across the country.
Headteacher Mr Curran said
"We've really enjoyed raising money for BBC Children in Need this year. The children loved going spotty for The Big Spotacular. They were very excited to receive a visit from Pudsey and the team at Lloyds Bank. The pupils loved it and it was great to have a reward for all our fundraising!"
Pudsey house sales raise cash
For every reservation made before Christmas at its Woodhall View development in Pudsey, Berkeley DeVeer will donate £1,000 to the Children in Need appeal.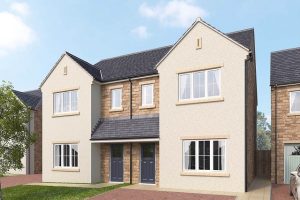 Managing director Dan Newett said:
"Pudsey the bear gets his name from his creator, who was originally from the town of Pudsey, and is without a shadow of a doubt one of the nation's most recognisable characters, helping raise millions of pounds for children in the UK and across the planet each and every year.

"Because Woodhall View is in Pudsey, it made sense for us this time to throw our weight behind Children in Need.

"For every reservation made between today and December 25, we will donate £1,000 to the charity. And, as there are 52 properties being built in the Woodhall Hall View development, wouldn't it be fantastic if we could hand over a cheque for many thousands of pounds?"
Pudsey parish bell ap-peal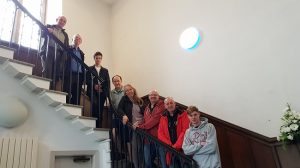 A sponsored bell peal at Pudsey Parish Church has now passed its £1,000 target.
As previously reported, bellringers carried out a three-hour sponsored bell peal. The peal has now raised £1,056 for Children in Need, £1,277 including GiftAid.
Donations are still being accepted until January 7th.  Donate here.