A £1,000 crowdfunding appeal for Kirkstall to have its own Little Free Library has been launched.
Open 24 hours a day, the honesty box library intends to complement your local library, act as a local meeting place and promote sharing and reusing.
It aims to bring communities together by setting up book exchange boxes across Leeds, where anyone can take or leave a book for free.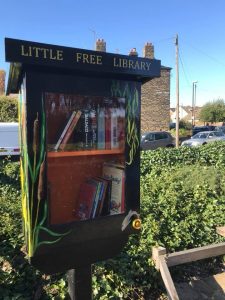 Kirkstall resident Harriett Richardson is runnign the crowdfunder – and is offering her front garden as a possible venue – but is open to ideas on its final position. She said:
"I would love for Kirkstall to have its own Little Free Library (first of many for the area I hope!) and am raising money initially through crowdfunding on social media.

"The money raised will cover the cost of building the weatherproof box, a beautiful hand-painted design by a local guest artist, and installation.

"The life expectancy of the box is 10 years and I propose to be responsible for the upkeep of the box and keeping it well stocked.

"Where it goes can be decided once the money is raised and the box is being built but I am 100% happy for it to be hosted in my front garden on Victoria Road, which is close to a school, park, church, leisure centre, doctors and local pubs/shops. It will be open for everyone to use, so not hidden away or a huge trek away from where people live or visit. "
The crowdfunder can be found here.
In November, The Dispatch reported how a Little Free Library opened in Rodley, near the canal.
The opening comes just a month after a Little Free Library was unveiled on the Westdale estate in Pudsey and last week another library was unveiled in Newlay. They can also be found in West Leeds at Landseer Grove in Bramley and The Newlands in Farsley. A map of all the libraries in Leeds can be found here.
_____________
We encourage anyone living or working in West Leeds to use this website to tell their news. You can either use our Create an Article page, or e-mail us at news@westleedsdispatch.com.