A senior historian is to chronicle recent finds at historic Calverley Old Hall – including 16th century wall paintings and concealed deposits.
Caroline Stanford, from the Landmark Trust, will be speaking online on Thursday 16 February at 7.30pm for the Yorkshire Vernacular Buildings Study Group (YVBSG)
Ms Stanford has been Landmark's historian since 2000 and, in a blog posted last September, detailed more recent finds. She wrote: "First, there came the once-in-a-lifetime discovery of the 16th-century painted chamber. Now, the Old Hall's very walls are yielding an astonishing treasure trove of objects. 
"In past centuries, objects were often deliberately concealed in a building's eaves or wall spaces of a building, apparently as good luck charms. 
"However, at Calverley Old Hall the number of such objects emerging from the walls is surprising even the archaeologists.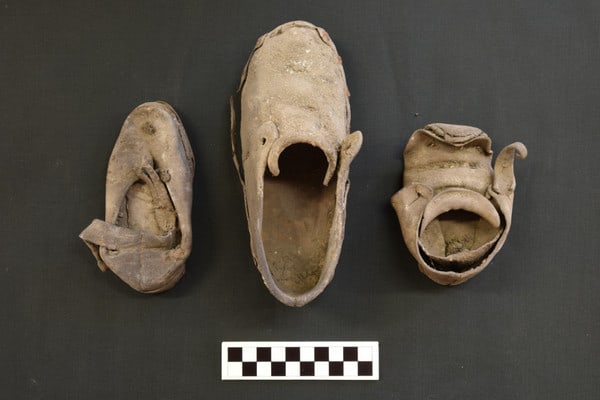 "To date, we have found five distinct areas holding tens of objects, clearly deliberately placed. They are tucked into the wall cavities and eaves of the great hall, the solar, the parlour block. In most cases, the objects are too fragmentary to have been still useful when hidden.
"Yet following some ancient folk instinct that we no longer understand, past residents clearly thought they carried some power to protect against evil influences, a quality known as 'apotropaic'. 
"Their analysis has required input from specialists in many materials: leather, pottery, cloth, metalwork, bone and plasterwork. There are fragments of slip and stoneware, textiles and felt hats; clay pipe bowls stained with tobacco smoked by Yorkshiremen (and perhaps -women) long ago. 
"There are scraps and fittings from a horse harness and many offcuts from shoemaking – we know from other research that a cobbler lived on site in the 19th century. We have found six odd shoes, most of them leather and heavily worn, some for adults, some for children. One is a child's wooden clog."
Read Caroline's full post here.
Calverley Old Hall was the family seat of the Calverley family from c1150 to 1750, after which it was colonised as cottages and declined in status.
Owned since the 1980s by the Landmark Trust, it is now the subject of a major restoration project to give the whole site a financially sustainable future. This talk will provide an overview of the latest interpretation of the construction phases of Calverley Old Hall within their historical context, including the discovery of sixteenth century wall paintings and a remarkable number of concealed deposits. 
The event is free of charge and open to all. There will be an opportunity for questions and discussion after the talk. Ticket details here.
Sponsored content