Extra police will be drafted on to Armley Town Street to help prevent any anti-social behaviour when pubs re-open on Saturday, 4 July.
Prime Minister Boris Johnson has said pubs, cafes and restaurants can re-open for the first time since lockdown began in March.
Leeds West MP Rachel Reeves today met with the Armley neighbourhood policing team and the council's Licensing Department to talk about issues on Town Street. Speaking on social media, she encouraged people to 'behave responsibly' and said:
"Although we all welcome the return of some sort of normality, I urge people to behave responsibly. The virus is still out there in the community and people are still dying. Let's not undo the good work we have done together to protect the NHS and save lives.

"I have also urged the police to ensure that anti-social behaviour is dealt with to keep us safe, and they have agreed with my request for extra police presence in Armley on Saturday.

"Let's show the best of Armley this weekend. The police work hard to protect us, and while we all want people to enjoy the easing of the lockdown restrictions, let's make sure we look out for one another and stay safe. We don't want anti-social behaviour in Armley or anywhere in our city."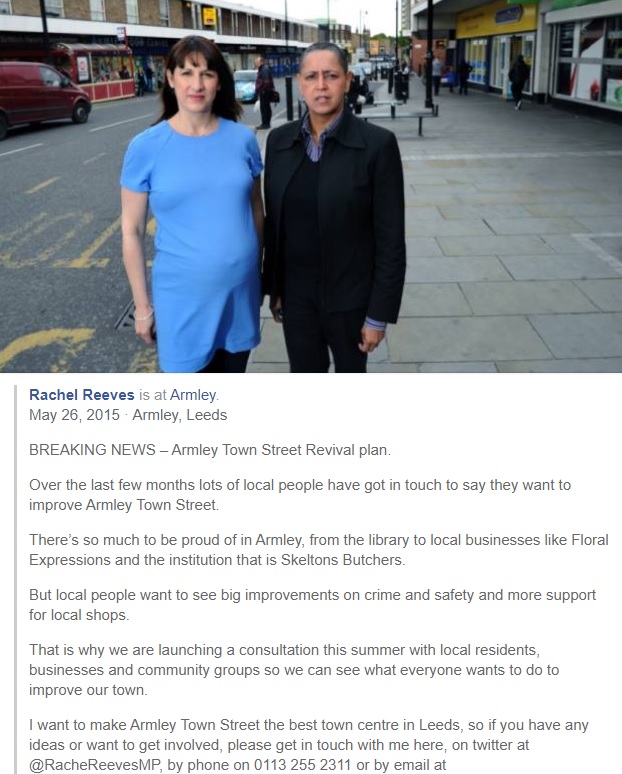 Earlier this week Ms Reeves was put under the spotlight when a Facebook post of five years ago about launching a strategy to improve Town Street came under fire. Dozens of comments claiming the area still faced massive issues and questioned what progress had been made.
Tracey Lazenby said:
"The original post was from five years ago. Has got worse. Myself and my husband were walking through the other Saturday morning (9.30-ish) and there was a woman who was clearly offering herself for cash."
Mandy Varley added:
"I used to love going Christmas shopping on Town Street with my mum, as a child it was so full of delight. To me now it's a no-go zone. I had to move as my car kept getting smashed up, but I will always hold fond memories of Armley. I would definitely start visiting Town Street again if it felt safer and more welcoming as I only live a mile or so away, please make this place proud again."
Others pointed to the recent closure of a local butchers and the Card Factory shop due to lockdown. Boots is also set to close its pharmacy in August.
In March – just as lockdown started – the Dispatch looked in depth at the issues facing Armley Town Street.
Shoppers and traders seemed to agree progress has been made, but they said more still needs to be done.
The area is poised to apply for something called 'business improvement district' status (BID for short), a government-backed scheme which is already up and running in hundreds of other towns and city centres across the country, including Leeds and Otley.
BIDs work by getting businesses within a defined area to pay a small percentage (typically one or two per cent) of their rates into a pot.
The programme lasts for five years and the money collected is then used to fund improvements in the town, according to priorities identified by those paying in.