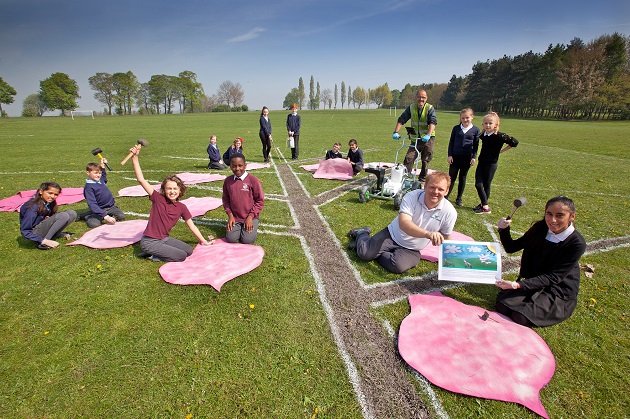 Armley schoolchildren have helped create a piece of land art to celebrate this year's Tour de Yorkshire.
The artwork at Gotts Park features the winning designs from three primary schools in Leeds, and includes a school pupil's drawing inspired by the Brownlee Brothers travelling down the Bradford Leeds Cycle Superhighway by bike in the sunshine.
The design also features owls from the city's coat-of-arms on a blossom tree in the background.
The project is a collaboration between Andrew Wood from Fields of Vision, 2017 winner of the Tour de Yorkshire land art competition, and the West Yorkshire Combined Authority's £60m CityConnect programme aimed at encouraging more people to travel by bike or on foot.
The CityConnect team ran a competition to find a design to celebrate the local area and cycling with pupils from three of its Bike Friendly Schools – Castleton, Christchurch Upper Armley and Holy Family.
On Sunday (5 May) the final stage of the Tour de Yorkshire, "The Yorkshire Classic", will pass alongside CityConnect's Bradford Leeds Cycle Superhighway, as the peloton travels along Stanningley Road, past Gotts Park on the final stretch into Leeds.
It is hoped the artwork, which showcases the creativity and imagination of local school children and how cycling inspires them, will feature in TV helicopter footage of the race seen by millions of people across the globe as the final stage passes through the area on Sunday.
Helen Rees, Deputy Headteacher at Holy Family Catholic Primary School, said:
"We're all very excited to be playing such our part in welcoming this year's Tour de Yorkshire.

"Everyone at the school is delighted to be involved in this land art project and I'm sure our pupils will remember it for a long time to come."
Graham Jones is Inclusion Support Manager at Castleton Primary School, where every year five and six pupil can ride a bike.
"We are both proud and pleased the West Yorkshire Combined Authority's CityConnect team is helping put our community on the map," he said.
"What a great opportunity for local school children to potentially have their artwork feature on race coverage, seen by millions of people across the world – I'm sure all eyes will be on the TV in Armley this weekend.
Moira Hunt is headteacher at Christchurch Upper Armley, which has recently joined CityConnect's Bike Friendly Schools scheme. She said:
"From boosting physical activity to instilling good travel habits that last a life time, we know encouraging more of our pupils to cycle and walk brings real benefits.

"Taking part in CityConnect's Bike Friendly Schools scheme is a great opportunity to get more of our pupils cycling."
The Bradford Leeds Cycle Superhighway, which stretches 23km, has been used for nearly a million trips (953,595 up until the end of March 2019, according to City Connect).
____________
While you're here…
Producing your daily dose of West Leeds Dispatch comes at a cost!
There's the hosting of the website you're reading now, running our popular e-mail newsletter, membership of independent press regulator Impress, attending summer events, paying for equipment etc etc.
We need at least £200 a month just to break even – that's money currently coming out of the pockets of dedicated volunteers who are passionate about what's happening in our communities, connecting you with local groups and organisations as well as holding decision-makers to account and championing local issues.
And all that's BEFORE we even think about paying something for people's time – for instance, our editor puts in more than 24 hours a week in his 'spare' time to ensure The Dispatch publishes daily.
To put it bluntly, after nearly four years of daily publishing, we are not sustainable!
And we need YOUR help to continue …
For the cost of less than a couple of cups of coffee you can help support local community news and continue to give our communities a voice by taking out a subscription for just £4 per month (that's just a pound a week).
As a thanks you'll get your name on a roll of honour on our website. More importantly you will be enabling us to keep bringing you the news that matters about your neighbourhood.
Achieving a bedrock of supporters will give us a firm financial footing and help us plan for the future.
Supporting us couldn't be easier…
Just follow this link.
or set up a standing order with your bank:
Contact us on Paywestleedsdispatch@gmail.com if you'd like to do this.
Over to you …