West Leeds children attending school during lockdown have become pen pals with local people shielding in the community, writes Josie Armitage.
At the start of lockdown, New Wortley Community Centre received funding from Leeds Community Foundation to provide family food parcels, activity packs and recipes.
One of the activities was a letter writing pack so that local children and young people could write letters that would be passed onto older service users that were also isolated due to shielding or self-isolating.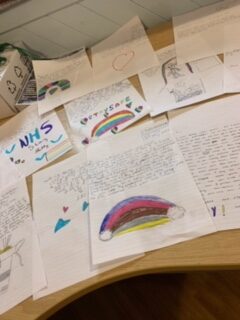 50 letter packs were sent out to Castleton Primary, St Bartholomew's, and Holy Family Primary Schools. The centre received 45 letters back and the Penpals scheme was born!
Some of these letters have been distributed to older people that are isolated who have enjoyed them and written back. Others have been distributed to local care and residential homes.
Feedback from the teachers at Castleton Primary School was how great the packs had been for those still accessing education in helping with letter writing as part of their English curriculum.
St Bartholomews' children had drawn lovely pictures to accompany the letters and the school have commented that it has helped children focus and chat about how Covid-19 has affected them. They included funny jokes to make people smile.
Rebecca Houlding, Operations Manager at New Wortley Community Centre, said:
"This started out as a simple exercise which turned into a fabulous little project helping those most isolated. We would like to build on this in the future and the intergenerational interaction that takes place.  If you are a care home that would benefit from this project, please get in touch."
Rebecca can be contacted through the centre's Facebook page or by phoning the centre on 0113 2793466.