Another day, another new brewery opens in Leeds! Armley-based Anthology Brewing Co. has become the latest new brewery on the scene, as Leeds continues to demonstrate it's a hot bed for craft brewers and drinkers. MIKE HAMPSHIRE visited the new brewery and catch up with owner and head brewer, Liam Kane…
A Brewery Hub
Whether there's something in the water, or, more likely, the plethora of industrial units, West Leeds is becoming a bit of a brewing hot spot.
There's one well-established Leeds brewery in the form of Kirkstall Brewery, with nearby Legitimate Industries to keep it company. Head a little further south, and you come across Wilde Child Brewing Co, recently moved in to new premises.
Well, all three now have yet another new neighbour. Set just off Armley Road in Armley, about a mile from the city centre, is a small industrial unit. From the outside it's quite inconspicuous, but it houses one of Leeds' newest breweries – Anthology Brewing Co.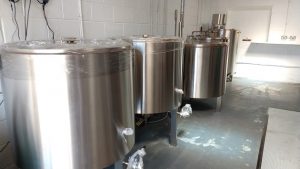 In the premises since March 2018, and brewing from May, Anthology may not be Leeds' biggest brewery, but Liam's new brewery is certainly making big waves in the local beer community.
Musician Turned Brewer
Liam has lived in Leeds for 11 years, having come to the city to study at Leeds College of Music, before becoming a musician for a few years. It was during his time as a musician that Liam fell in love with homebrewing, "sometimes brewing two to three times a week" Liam says, "AKA it got out of hand!".
It was at this point Liam decided to move into the world of beer and took his first job at one of my favourite UK breweries, Thornbridge. Liam was an assistant here for a few months before moving on to Summer Wine. Here, he got his first real opportunity at brewing on a professional level and started to develop his craftmanship. He then moved onto Vocation where he became a shift brewer for 18 months; his last stop before Anthology was born. Liam said:
"The end goal was always to have my own business. Originally, I had considered jumping in at the deep end, but the sensible part of me was saying to get some experience in the industry. To both decide if it's what I wanted to do and to get first-hand experience of brewing."

"I'm incredibly glad I made that decision as there's no way my first beers would be to the standard they have been at Anthology, without prior knowledge and experience."

"Basically, I'm a bit of a control freak and the creative part of me was getting restless so I felt the time was right!"
A Collection
So, Liam left Vocation and founded his own brewery, Anthology. I got the chance to visit the brewery for the first time earlier this month, on the day of Liam's first ever tap room open day.
The brew kit here is a 2.5BBL kit, approximately 4HL (800 Pints). The kit is all brand new and looks very shiny!
The brew kit is set to the left of the brewery, with space on the right where Liam set up a bar and picnic tables for the launch. I believe this is usually where the cask washer is stored, but some of his immediate neighbours were kind enough to look after that for the open day.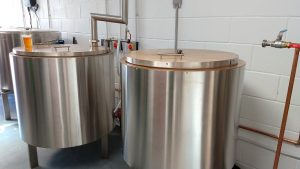 I asked why Liam picked Anthology for the name. "It's called Anthology because there isn't a core range as such" Liam shared. "It's an ever-evolving range of beers, or a 'collection'."
On the open day, Liam had a collection of six beers available. Four on cask hand pull, one poured direct from cask, and one on keg. They were all fantastic.
Two of the beers were brewed using Mosaic hops, so that kept me very happy! Of the beers that were available, the stand out ones were the New England Session Pale at 3.8% – a cracking New England style beer, without the usual higher ABV. Also, the 6% ABV Cocoa Stout which was direct from the cask and had a lovely coffee and chocolate flavour. Last, but not least though (as I kept going back for more), was the Dry Hopped Pale, 5% ABV, with Mosaic and Nelson Sauvin hops. What a hop combination!
Competition
I must admit, I find Liam's decision to open a brewery in Leeds quite a brave one. The reason for that is Leeds already has approximately twenty-five active breweries. Four of which tend to dominate the market. That coupled with Leeds drinkers' thirst for trying new beers outside of the city, it makes for quite a challenge for the smaller breweries to compete.
"Leeds has such a good collection of breweries and bars and as a result a lot of discerning palates!" Liam starts, after I asked him what he saw as his biggest challenge being the newest brewery in Leeds.
"Every time I package a beer I'm acutely aware of this and am always analysing and being super critical of my beers to ensure each batch can be made that bit better."
"There's always more to learn about beer and I'm always trying to educate myself and use that knowledge to improve my process."
The quality and flavour of Liam's beers is exceptional, and well worth seeking out. In Leeds, Liam's beers can often be found at Whitelocks, The Social on Merrion Street, Brudenell Social Club and Headrow House. Further afield, in Calan's Micropub and Drink? and Vocation and Co. in Hebden Bridge.
I look forward to seeing what happens next with Liam and Anthology!
You can follow the latest about Anthology on Twitter and Instagram.