By John Baron
"I always feel welcome here, that's what makes this place so special," said a young Ukrainian mum, who had brought her youngster to Christ Church in Upper Armley to celebrate the success of a lifeline community project.
She was just one of dozens of people from a dizzying array of nationalities and backgrounds who packed into the church on Bank Holiday Monday for a community celebration to mark Meeting Point's 20th anniversary.
Meeting Point is a small organisation which supports families who have come to the UK as refugees and asylum seekers from countries including Afghanistan, Iran and Nigeria. At Meeting Point they are able to get help and advice, find friendship, and learn and improve their English.
"The celebration event is a wonderful and joyous occasion," said Meeting Point project manager Emma Crossley. "To see the community come together in such a way is really quite remarkable, and a true reflection of what can be achieved when people from all walks of life come together and unite behind a common cause."
The 20th anniversary celebration featured food, activities for youngsters and music, with families chatting in multitude of different languages and tucking into food from pizzas and sandwiches through to samosas and onion bhajis.
Taking centre stage was a cake was made by adults with learning disabilities who attend the Cygnet Care bakery in Kirkstall.
The lively ceilidh band was Bandiera Rossa, circus skills were provided by Pete White's Suitcase Circus and the sculpture making was by Alison Smith from the Henry Moore Institute.
Maryam came from Iran five years ago and is now a volunteer. She said Meeting Point was like her family. "I'm so happy with the energy here," she said.
Lilian, from Nigeria, said she loved the way women from different countries and backgrounds came together. "You can mix and learn a different language from the one you originally spoke. There's various activities you can participate in, such as sewing, knitting and singing. The staff and volunteers are friendly and amazing."
Another attendee gestured around the hall and said: "Today is beautiful, just look at the smiling faces of families and children. You see so many people from so many different backgrounds. We are all a family."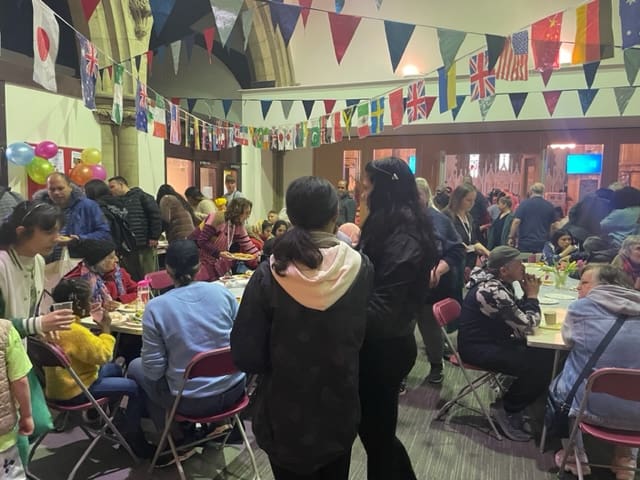 "I'm proud to be part of such a small but mighty team," chipped in project manager Emma. "Well done to everyone involved, and huge thanks to those who have supported us over the years.
"We have been providing practical and emotional support to refugees and asylum seekers in the Leeds area for 20 years; not easy for such a small front-line charity.
"We rely on a fantastic team of volunteers, many of whom are beneficiaries themselves, who come together each week to provide a drop-in, food provision, women's group and English classes. We have been described as 'an oasis in Armley' in the past!"
Emma says numbers attending the project have increased significantly over the years, as conflicts around the world continue to force families and individuals to flee to places of safety.
Last year alone, Meeting Point had 4,897 visits to its weekly drop-in by 561 individuals. "A sad reflection of increasing need," added Emma.
As reported by WLD in our last print edition, Meeting Point scooped an honour at the Leeds Compassionate City Awards. The Jo Cox Award goes to an individual or organisation which has gone above and beyond to bring different communities together.
For more information, about Meeting Point, call 0113 2796700 or e-mail Emma.c@ccacp.org.uk.
A day earlier, the community came together for a 'pay as you feel' celebration Christ Church, which was one of more than 67,000 across bank holiday weekend. The Guardian's Robyn Vinter reported on the Coronation big lunch event where 'everyone was welcome'.