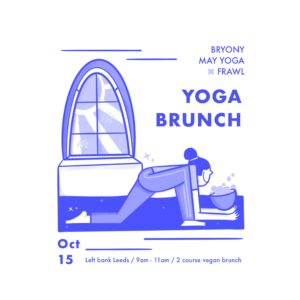 We invite you to flow into your Sunday with an energising Vinyasa sequence and vegan brunch on the 15th of October.
Bryony will be guiding you through some mindful movement to nourish your bodies and minds to bring some zen into your weekend. All levels of yoga practices are welcome with open arms to our Yoga Brunch community.
Seasonal veg-centered pop up, Frawl is the creation of two Leeds-based sisters (Anna & Beth) who will be serving up a sensational 2 course vegan (gluten-free available) menu to sink your teeth in to post flow.
Yoga mats are provided or you are welcome to bring your own! Go to the link below for your tix!