For years a floral Pudsey Bear has stood outside the glass house at Pudsey Park, casting his eye over the flowerbeds and bandstand in the distance.
The floral tribute was initially maintained by Leeds City Council, but cost an unaffordable £1,500 a year to maintain.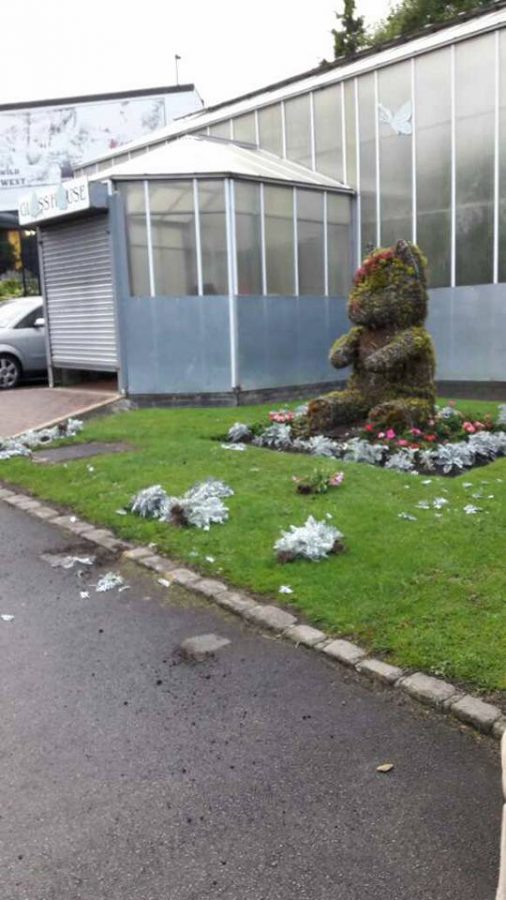 The bear has now been returned to the park, in a slightly different location, after spending time at Leeds City Council plant nursery the Arium.
The flowers in Pudsey Bear will now be replaced by topiary, which is cheaper and longer lasting.
His return has been welcomed by volunteers at Pudsey in Bloom. Posting on Facebook, they said:
"Well, look who has arrived in Pudsey Park where he belongs!

"We are going to look after him as we cannot afford the money to have him planted up! Watch him grow into the Pudsey Bear that we all love!

"We are planting lonicera nitida inside him and he will became a topiary bear!"
Children in Need mascot Pudsey Bear was created in 1985 by BBC graphic designer Joanna Lane. The bear was named after her hometown of Pudsey, where her grandfather Irvine Ball was borough councillor between 1936 and 1955 and town mayor in 1950.
The volunteers at Pudsey in Bloom were in the park this week, rescuing some of the many abandoned plants found behind the glasshouse which has been permanently closed due to budget cuts.
Pudsey in Bloom always welcomes new volunteers. They work on Tuesdays each week between March and November. More details on how to join them here.
Check out more of WLD's coverage of Pudsey in Bloom here.